Unless you have a peanut allergy, eating a large amount of peanuts at one sitting will only add calories to your daily intake. Peanuts pack in calories and fat, but most of the fat is derived from heart-healthy sources (4.4g of polyunsaturated and 7.0g of monounsaturated fats per one ounce serving). According to Calorie King, a one-ounce serving of roasted, salted peanuts contains 166 calories and 14 g of fat. Everything in moderation is good advice, especially when you are trying to control your weight, and two to four 1oz servings/week of peanuts can be part of a healthy diet.
Continue Learning about Eating Habits and Nutrition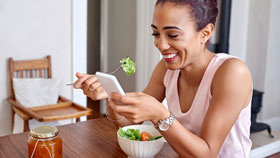 Three meals a day or five? That's only one aspect of the behavior known as eating habits. There is also the matter of style. Do you plan your meals or eat on the run - do you eat when you are happy, sad, or stressed - these are ot...
hers. Recognizing your eating style can help you work to achieve healthier eating habits.
More