Not all Mexican food is bad for your heart, but cheese-laden nachos and gargantuan burritos filled with steak, rice, sour cream, and cheese sure can be. It all comes down to how you dress your tortilla, says Bonnie Taub-Dix, MA, RD, CDN, author of Read It Before You Eat It.

For a heart-healthy meal, choose chicken over steak, black beans over lard-filled refried beans, brown rice instead of white, and vegetable condiments such as salsa, pico de gallo, and guacamole in place of sour cream and cheese. At home, try substituting sour cream with plain, low-fat Greek yogurt. If you don't trust yourself to make healthy substitutions when eating out, order the sizzling chicken or shrimp fajitas instead.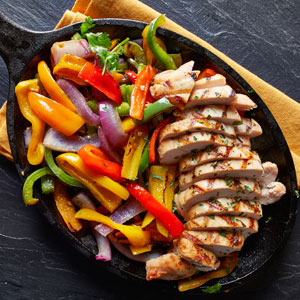 Sitting on the patio of your favorite Mexican restaurant, sipping a margarita and taking in the sun can be a great way to spend a summer afternoon or evening. Depending on the choices, Mexican and or Tex-Mex cuisines can be high in fat and sodium. Vegetable oil has replaced lard in most restaurants to reduce the saturated fat, but the calories and total fat can still be quite high.
Follow these suggestions to reduce fat while still enjoying some of Mexico's most delicious meals:
Order guacamole and sour cream on the side so you can control the amount added to your entrée.
For more vitamins A and C, use a heavy hand with tomato-based salsa. It's virtually fat-free and bursting with flavor.
Ask for soft tortillas rather than hard. Crispy tacos and tostadas are deep-fried.
When ordering a taco salad, go easy on the big, crisp tortilla shell to trim the fat and calories.
To fend off the temptation of the usually complimentary deep-fried tortilla chips, order a low-fat appetizer such as gazpacho, jicama and salsa, tortilla soup or black bean soup.
Experiment with fillings. Try broiled fish or shrimp with a lime squeeze, tomato, onion and cilantro, grilled chicken or Mexican beans and rice, chili peppers and Picante sauce.
Choose mostly baked or stir-fried entrees such as enchiladas or fajitas, going easy on fried entrees like chiles Rellenos, chimichangas or flautas.
As a general rule, when navigating a Mexican menu, look for clues to low-fat items in words like Asada, salsa verde and Veracruz-style, while limiting items described with crispy, con queso or chorizo.
With the queso, chips and margaritas that arrive within minutes of sitting down at many Mexican restaurants, you're done before you ever get started. It's easy to down a full day's calories in one sitting at a Mexican restaurant but that doesn't have to be the case. To stick to your healthy diet, try these options next time you go out for Mexican food.
Skip the chips and start with a small vegetable salad or broth-based tortilla soup or posole. If you're lucky the restaurant might even have ceviche or jicama salad on the menu for a refreshing, low-calorie start to the meal.
When it comes time to pick an entree, try these healthier for you options:
Escabeche (marinated vegetables)
Tamales
Fresh fish of the day with grilled vegetables
Pollo a La Parrilla (grilled chicken)
Camarones a la diabla (spicy shrimp)
Carne asada (grilled skirt steak)
Go easy on the rice. Use extra salsa to top your meat, chicken or fish dishes instead of sour cream, cheese or heavy sauces. And it's fine to have guacamole, just ask for jicama, red pepper or cucumber sticks instead of tortilla chips for dipping.
Fajitas can be a great choice in Mexican restaurant -- if you know which kind to order, weight-loss expert Jim Karas tells Dr. Oz. Watch this video to find out why veggie fajitas aren't your best pick -- and the popular dip you'll want to avoid.
Look for marinated grilled chicken and fish or dishes like fajitas, fish tacos, and salads. Seviche, which is a raw fish marinated in lime or orange juice with tomato, onion and cilantro is almost guaranteed to be light. Traditional rice, beans and tortillas can be nutritious, so long as it's not smothered in cheese and sour cream.
Although it may not seem so because of the higher calorie count of many Mexican dishes, Mexican food can be a part of a healthier eating plan as long as you follow a few simple guidelines.

When enjoying Mexican food, try to avoid chips, flour tortillas, refried beans, queso, and yes, margaritas; and use condiments such as guacamole, sour cream, and cheese sparingly. These items are very calorie-dense, meaning they pack a lot of calories into not a lot of food/drink.

Instead, order grilled chicken or fish dishes such as pollo asada or a tilapia plate with black beans and grilled vegetables on the side. Other healthier options include grilled chicken, fish, or shrimp soft tacos and fajitas made with corn tortillas -- which are smaller and less-calories than their flour counterparts -- that are topped off with lots of cancer-fighting, fat-burning salsa as a condiment.
Order: Fajita, black beans, refried beans cooked without lard; guacamole as a condiment, brown rice; jicama; grilled chicken or fish; cerviche; avocados; chicken enchiladas without cheese; arroz con pollo (request brown rice); camarones.

Avoid: Fried flour or corn like tortillas, taco shells, sour cream, cheese; quesadillas; chalupas; nachos; ground beef or pork.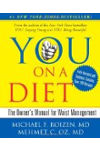 When ordering at a Mexican restaurant, look for meals that incorporate a variety of foods from the five food groups. Compare the types of protein foods, as some restaurants may use high-fat sauces or creams to add flavor. Black beans, turkey, or chicken are leaner types of protein compared to refried beans or sausages. Check the menu to see if the restaurant serves a la carte side dishes. Steamed vegetables, a side salad, or low-sodium guacamole can be swapped out for tortilla chips, white rice, or sour cream.
Mexican food is delicious, but it can be high in calories and fat. In this video, registered dietician Frances Largeman-Roth explains how to steer clear of dietary pitfalls while enjoying your meal.
Making healthy choices in a Mexican restaurant is easier then it seems. Start with chips and salsa. I eat the salsa but not the chips because if I eat the chips I will fill up before my meal comes! So what do I do? I use the chips as a scoop for the salsa or guacamole. It does leave a pile of soggy chips for the server but I just leave a bigger tip! I also want to avoid fried foods hence another reason for avoiding the chips. I love guacamole because it is high in monounsaturated healthy fats. Fajitas served with chicken and corn tortillas are another good choice because they contain more fiber than white flour tortillas. Ceviches, soft tacos, bean burritos, and rice can be delicious and healthy. Avoid dishes that are deep fried (usually crispy items) and loaded with cheese and sour cream.
To have a healthy Mexican meal, you must avoid the chips and all the heavy extras; ceviche and grilled entrees are your best bet. In this video, "Hungry Girl" author Lisa Lillien shares her tips for eating -- and drinking -- at a Mexican restaurant.
When it comes to Mexican fast food, the best strategy is to keep it simple. Lower-calorie meals include soft-shell tacos, bean burritos, and chili; for sides, look for baked tortilla chips and salsa. Hold the guacamole, cheese, and sour cream, or ask for these high-calorie extras on the side so kids can add just a dab to their meal. Order extra tomatoes, lettuce, chili peppers, and onions for crunch with a vitamin-rich punch.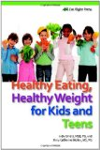 Have tortilla soup or a dinner salad instead of the chips and salsa. In fact, ask your server NOT to bring the chips and salsa to your table. For your main entree, go for grilled fish tacos, fajitas or soft tacos with grilled chicken or carne asada and lots of veggies, and choose pinto beans over refried beans. If you have guacamole, have a small portion, and if you'd like to save more calories and saturated fat, skip the cheese and sour cream and have fresh salsa or pico de gallo instead.
Continue Learning about Eating and Society