Diverticulosis is a condition where the colon develops little pockets (potholes) as a result of a diet that's relatively low in fiber and high in animal products. For most of my patients with diverticulosis, I recommend 1 or 2 heaping tablespoons of ground psyllium husk to help them reach their fiber intake target goal. Fiber cleans out the colon and the colon is one of the major routes for toxins to be expelled from the body. Having a good bowel movement is really the ultimate detox.

When you reach that magic number of 35 grams of fiber, some amazing things start to happen. In addition to magnificent stools that drop effortlessly into the bowl, your risk for a lot of the other things that kill Americans -- many types of cancer, heart disease, diabetes and stroke -- all drop too. An apple (or two) a day really does keep the doctor away.
Continue Learning about Diverticulitis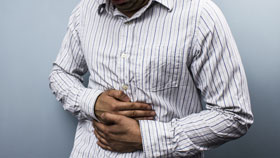 Diverticulitis occurs when diverticula (small, bulging pouches in the digestive tract) become infected or inflamed. Some signs of diverticulitis include severe pain, bloating that persists for weeks, constipation and blood in your ...
stool. Treatment includes changes in diet, antibiotics and surgery.
More