Watch as Dr. Oz learns about the two types of colon polyps from Dr. Jonathan Lapook. In this video, he gets the colonoscopy results that changed his life.


There are two common types of colon polyps: hyperplastic polyp and adenoma. The hyperplastic polyp is typically not at risk for cancer. The adenoma, however, is thought to be the precursor (origin) for almost all colon cancers, although most adenomas never become cancers. Histology (examination of tissue under a microscope) is the best way to differentiate between hyperplastic and adenomatous polyps.

Although it's impossible to tell which adenomatous polyps will become cancers, larger polyps are more likely to become cancers and some of the largest ones (those larger than 1 inch) can already contain small areas of cancer. Because your doctor cannot usually be certain of the tissue type by the polyp's appearance, doctors generally recommend removing all polyps found during a colonoscopy.
Continue Learning about Digestive Health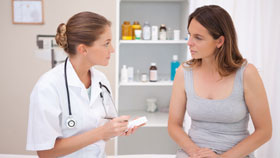 The digestive system includes all parts of the body that process food and expel waste, from your mouth to the end of your digestive tract. Diseases of the gastrointestinal tract prevent your body from effectively using the food yo...
u eat. Learn more about digestive health from our experts.
More