The most common gallbladder disease is due to stones. Stones in the gallbladder can block it from emptying the bile it stores, causing inflammation and pain. You can have intermittent attacks of symptoms caused by gallbladder stones (symptomatic cholelithiasis). Sometimes the stones can completely block the gallbladder from emptying and this causes severe inflammation of the gallbladder (cholecystitis). Other problems related to the gallbladder are caused by a gallbladder stone dislodging and blocking the pancreas duct (pancreatitis) or the main bile duct (cholangitis), or when the gallbladder does not empty bile like it should into the intestines (biliary dyskinesia).
There are many types of gallbladder disease. Stones or sludge can get trapped in the gallbladder and cause inflammation of the gallbladder itself. They can also get stuck in the tubes or ducts that carry bile (a liquid the liver makes) from the gallbladder into the intestines. This can cause a blockage that may injure the pancreas or cause an infection. It is also possible to get cancer of the gallbladder.
Continue Learning about Digestive Health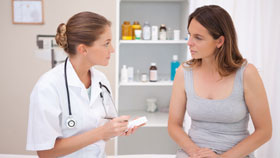 The digestive system includes all parts of the body that process food and expel waste, from your mouth to the end of your digestive tract. Diseases of the gastrointestinal tract prevent your body from effectively using the food yo...
u eat. Learn more about digestive health from our experts.
More