The most primary symptom of duodenal ulcers is abdominal pain. In most cases, the pain, which is generally felt below the breastbone, will not occur until the middle of the morning each day. Because pain is caused by the ulcer and aggravated by stomach acid, eating generally helps neutralize stomach pain, which will reoccur a few hours later. In some cases, pain will occur several times a day over several weeks and then disappear. In other cases, pain may never occur. Often, pain will occur and subside in a pattern that follows a persons stress levels. In some cases, symptoms are more severe, including blood in vomit or stool, nausea, and weight loss.
Continue Learning about Digestive Health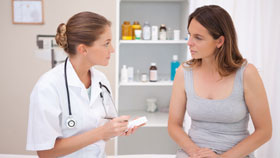 The digestive system includes all parts of the body that process food and expel waste, from your mouth to the end of your digestive tract. Diseases of the gastrointestinal tract prevent your body from effectively using the food yo...
u eat. Learn more about digestive health from our experts.
More