Breaking the itch-scratch-itch cycle can be very challenging. There is no quick and easy treatment. The anal area is sensitive and can easily become irritated and itchy.
Even without realizing it, many people scratch at night. This makes the situation worse. Also, the area tends to be moist from mucous and sweat. During the day, normal rubbing of the buttocks when walking adds to the irritation and urge to itch.
The best way to treat anal itching is to keep the area clean and dry:
Take a sitz bath or use a baby wipe or soft moistened toilet paper to clean the anal area after having a bowel movement.
Clean but don't scrub.
Avoid colored or perfumed toilet paper and soaps.
After a bath or shower, rinse soap from the anal area completely.
Dry the area after bathing or taking a sitz bath. Pat the area dry, do not rub with a towel. A hair dryer can help (but not too hot).
During the day, wear loose fitting, 100% cotton underwear.
Use cornstarch powder to help keep the anus dry.
Creams and ointments usually don't help, and the chemicals in them sometimes make the problem worse. Zonalon cream contains doxepin, a drug that blocks histamine. It may help a little.
The nystatin is an antifungal agent that treats yeast infections. Yeast will grow on irritated skin, especially when it is warm and moist. But it is unlikely to help with anal itching.
You can try a 1% hydrocortisone ointment or cream. But do not use it for long periods. It causes the skin to become thinner and more fragile, and more susceptible to irritation.
Continue Learning about Digestive Health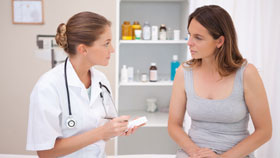 The digestive system includes all parts of the body that process food and expel waste, from your mouth to the end of your digestive tract. Diseases of the gastrointestinal tract prevent your body from effectively using the food yo...
u eat. Learn more about digestive health from our experts.
More