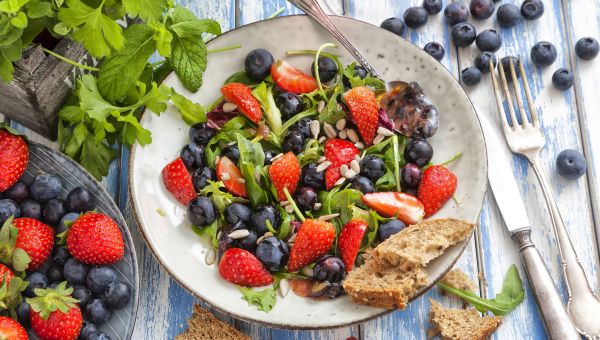 Healthy Eating Tricks to Steal From the MIND Diet
This easy eating plan helped me drop pounds, lowered my blood pressure and changed how I think about food.
1 / 17
By Rose Hayes
The MIND Diet took me by surprise. I chose it for Sharecare's Editors Try Challenge because the plan was flexible enough to fit my lifestyle. And it was incredibly simple to follow, but I didn't expect it to actually change the way I think about food. I certainly didn't expect it to lower my blood pressure, reduce my urge to binge or boost my overall energy. (Note: This was my personal experience; results may vary.)
Here's what I learned after trying this plan for one month and my best tips to steal.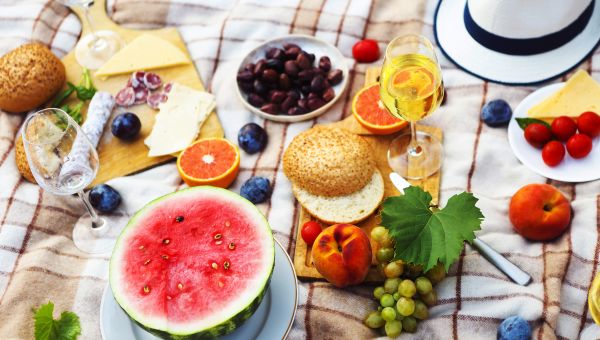 2 / 17

It's not your typical diet

The MIND Diet combines key parts of the DASH Diet, which helps control blood pressure and the Mediterranean Diet, which is associated with longevity and lower rates of chronic illnesses like heart disease.

This eating plan was designed to help reduce Alzheimer's disease risk. In fact, people who followed it most closely had a 53 percent lower risk of Alzheimer's, according to a large 2015 study.

Its guidelines encourage you to eat 10 specific food groups that help protect against dementia and other chronic illnesses—such as berries, nuts and fatty fish—based on decades of research. It asks you to limit foods that up your disease risk, such salt, sugar and butter.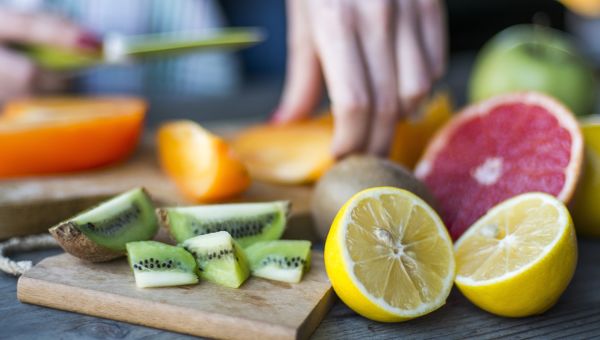 3 / 17

The number one reason to try this diet

It'll change your motivation—it changed mine. The MIND Diet's not just about staying slim; it's about improving your health and ensuring your future. Here's how it impacted the way I think about food:
I could have restricted items like dessert (in moderation) if I really wanted them. That took the edge off and helped me feel more in-control of my choices.
I didn't really want restricted foods anymore because every time I ate them, it felt like I was taking years off my life.
MIND Diet approved foods are filling and delicious. Plus, every time I replaced a "food to limit" with a "food to love," I was directly lowering my disease risk.
Thinking about trying it yourself? Here are some of my top tricks to get you started.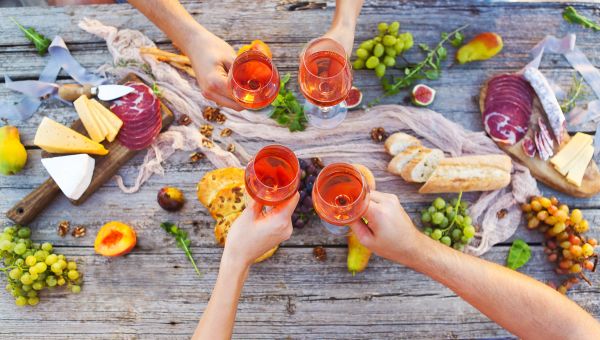 4 / 17

Don't let peer pressure derail your diet

Peer pressure can quickly undo your diet progress. Fortunately, social gatherings don't have to set you back on this plan. For one thing, you're allowed a limited number of unhealthy foods, but you need to:
Measure your servings
Track how much you have weekly
Stay below a certain number of total servings, depending on the food
Often, I made simple swaps instead of indulging, so I could stay on-track without turning down food offers. For example:
On movie night: I had one glass of red wine—my friends had more—and munched on unsalted pistachios instead of popcorn.
At the sushi restaurant: I switched seaweed with cucumber or rice paper in sushi rolls (seaweed can have a high salt content), opted for brown rice instead of white and didn't use soy sauce.
At the family dinner: I had one fist-sized serving of spaghetti and skipped the meatballs. I enjoyed a large side of escarole and beans instead.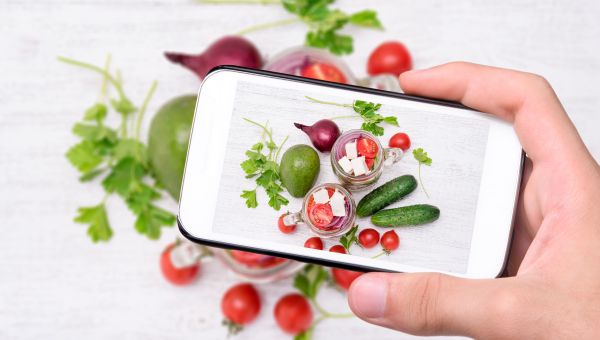 5 / 17

Keep a visual food journal

A food journal can double your weight loss success, but it's not always possible to stop and write down what you're eating.

I wasn't about to press pause on my meals for the sake of bookkeeping. I started snapping pics with my phone instead. Turns out, this simple step really does boost accountability:
If I couldn't remember how many servings I'd had of one particular food, I could swipe through my photos to check.
My coworkers were also dieting, so we'd often share recipes and pics—I didn't want any random fried foods in my photo stream. 6 / 17

Start your days off strong

This diet got me into the habit of eating filling, heart healthy oatmeal each morning. But I'm not talking about the sugary, artificial packets with ingredients you can't pronounce. I mean hearty, goopy, 100% real oatmeal.

Sadly, steel cut oats can take a while to cook. Some ways to get around that:
Make overnight oats.
Use Old Wessex 5-Grain Cereal, which cooks in less than five minutes and only contains real whole grains.
Throw oats and water in a rice cooker every few days to make large batches at a time.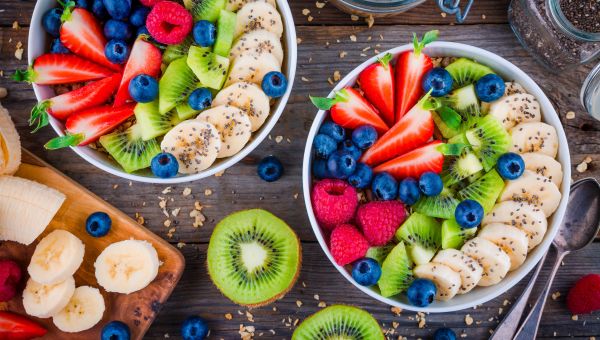 7 / 17

Decorate your breakfast

A daily serving of oatmeal might sound like it would get old, but I never experienced breakfast boredom. I decorated my bowls with these delicious toppings:
Fresh fruit like peach, mango or berries—blueberries are the only fruit specifically included on the MIND Diet because of their brain boosting properties
Vanilla or almond extract
Almond milk—just check the nutrition facts; some brands contain too much sodium and sugar
Almond slices or walnuts
Seeds like chia and flax
Ground ginger, cinnamon, nutmeg or clove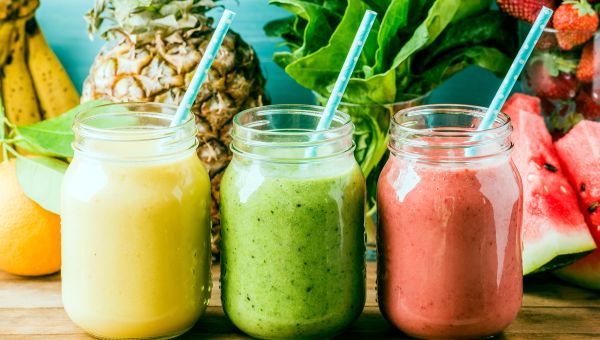 8 / 17

Get a single serving blender—you'll thank me later

On especially busy mornings, I'd throw some ingredients in my single serving blender and take one of these satisfying smoothies to go:

Peaches 'n Cream: Frozen peaches, plain Greek yogurt, almond milk, almond extract, cinnamon and ice.

Raspberry Refresher: Frozen raspberries, banana, almond milk, vanilla extract and ice.

Elvis' Favorite (and mine): Peanut butter protein powder (get the taste and protein of peanut butter without the calories and fat), banana, sugar-free dark chocolate, nonfat milk and ice. 9 / 17

Try these 6 fruit-nut combos

Fruit is unrestricted on the MIND Diet and nuts are good for both your heart and brain. Here are my best nutty combos:
Pistachios and a pear
Cashews, a square of sugar-free dark chocolate and orange slices
Walnuts with plain Greek yogurt and chopped figs
Almonds and a banana
Chia seeds sprinkled over peach slices
Watermelon, feta, basil and flax seeds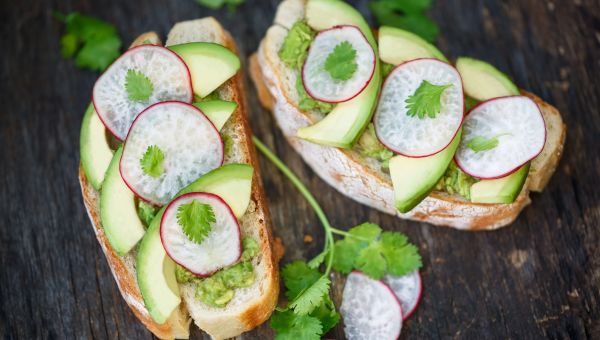 10 / 17

Not feeling nutty? Eat these healthy, tasty snacks

Snack time can be marvelous on the MIND Diet—just remember that some of these foods, like cheese, should be eaten in moderation.
"Cheesecake in a bowl," or one serving of ricotta cheese and fresh berries with half a graham cracker crumbled on top
Avocado smashed on spelt toast with onions and red pepper flakes
Tuna salad—make it with olive oil, olives and chopped veggies instead of mayonnaise
Spelt bread with ricotta cheese and sliced figs
Caprese salad, or fresh tomatoes with sliced mozzarella, fresh basil and olive oil drizzle
Shrimp cocktail with lemon or low-sodium horseradish sauce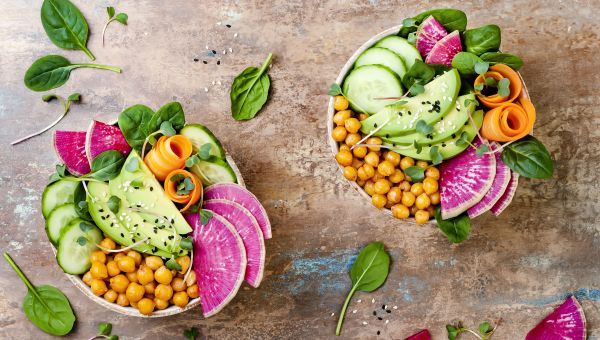 11 / 17

Make salads bulky and always include grains

Mornings can be insane—having the right ingredients on-hand for fast lunchboxes is essential. Here's how I bulked up my lunch salads with minimal time and effort:
I kept pre-washed kale, arugula and romaine in the fridge, and would throw a handful of each into my salad container.
I used pre-washed veggies like shredded carrots, cabbage and broccoli slaw as easy toppings.
I'd include a grain like brown rice or bulgur from the night before.
I'd top it with lean protein made during Sunday meal prep, like diced chicken, black beans, a veggie burger or vegan crumbles. 12 / 17

Sip smart at the coffee shop

I don't drink diet or regular soda… but coffee, tea and juice are healthy, right?

It depends. I started asking how many syrup pumps came in my order at the coffee shop—the answer often ranged from six to eight, depending on the drink. Many secretly contained my entire daily serving of sugar.

Always ask the barista about the sugar in your drink order. Ask for one pump or two to start out, but work towards tapering off the liquid sugar all together if possible.

Watch out for drinks that come in bottles too. Many juice, tea and coffee beverages with healthy looking labels are actually loaded with strange ingredients and added sugars.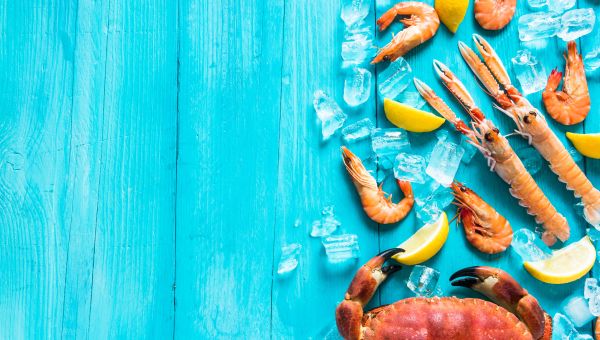 13 / 17

Get sassy about seafood

Aim to eat fish at least once a week. Fatty fish like salmon is especially high in omega-3 fatty acids, which may protect against the buildup of beta-amyloid plaques, brain proteins linked to the development of Alzheimer's.

But fish is pricey, and a fresh catch can be hard to find. Don't commit to a filet without asking:
When was it shipped?
Was it shipped fresh or frozen?
How long has it been on display?
What does a pound of that fish actually look like? Will you get one filet or three for the price?
If you get home and it smells suspicious, bring it back! Don't eat questionable seafood, and don't just assume that cost. Pro tip: Buy whenever you see a sale, even if you don't plan on eating fish that night. Freeze it so you always have affordable, lean protein on-hand. 14 / 17

Know what your dinner's cooked in

Restaurants were helpful when I told them about my diet needs. Typically, they'd offer to modify dishes to lower the salt and sugar content.

But one detail they often overlooked was oil. Restaurants sometimes cook healthy foods like green vegetables and fish filets in butter to add flavor. Always ask what the chef uses and request water or olive oil instead (limit butter and margarine to one daily serving or less).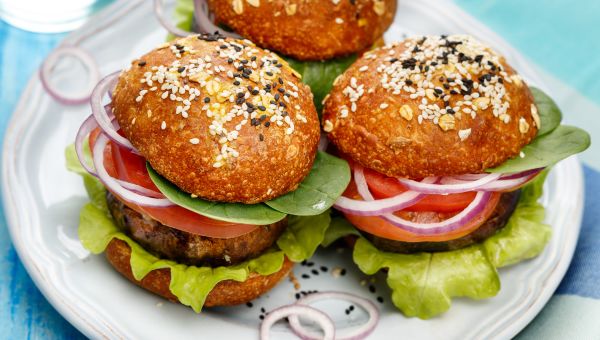 15 / 17

If you miss red meat, try these replacements

Red meat's limited to four servings a week on the MIND Diet. If you're a meat lover, here are some ways to work around the restriction:
Try sautéed mushrooms and onions instead of bacon as a side for eggs
Smoked mozzarella can satisfy bacon cravings too
Choose Morning Star Grillers over beef patties
Use portabella mushrooms to bulk up veggies wraps and sandwiches
Include nuts, lentils or beans in meatless meals 16 / 17

Did I lose any weight?

I shed about five pounds in one month. What's more impressive? My blood pressure improved significantly.

At the start of the challenge, it clocked in at 145/101. By the end of the month, it was 120/85. That's basically normal—blood pressure should be less than 120/80.

Another perk? I have more energy in the mornings and need far less caffeine to make it through the day. I'm now down to one to two cups of tea, instead of a constant stream of coffee.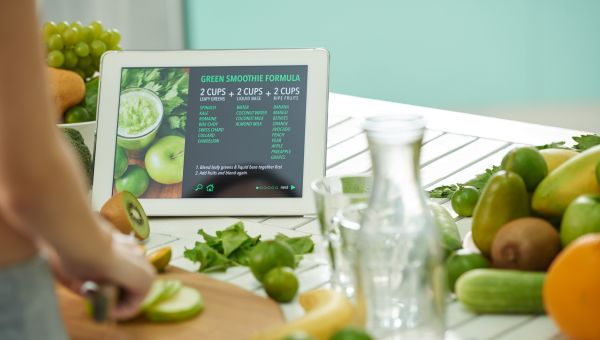 17 / 17

Get more editor-approved healthy eating tips

To eat healthy, pick foods that are the colors of the rainbow, and watch your portion sizes. Eating foods that are colorful-red apples, orange carrots, yellow squash, green salad, tomatoes, blueberries and purple eggplant-helps yo...
u add fruits and vegetables to your diet.
More