While the human gastrointestinal tract is capable of digesting both plant and animal foods, there are indications that we evolved to digest primarily plant foods. Specifically, our teeth are composed of twenty molars, which are perfect for crushing and grinding plant foods, along with eight front incisors, which are well suited for biting into fruits and vegetables. Only our front four canine teeth are designed for meat eating, and our jaws swing both vertically to tear and laterally to crush, while carnivores' jaws swing only vertically. Additional evidence that supports the human body's preference for plant foods is the long length of the human intestinal tract. Carnivores typically have a short bowel, while herbivores have a bowel length proportionally comparable to humans.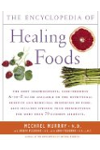 More About this Book
Encyclopedia of Healing Foods
From the bestselling authors of The Encyclopedia of Natural Medicine, the most comprehensive and practical guide available to the nutritional benefits and medicinal properties of virtually everything...
Since humans are omnivores, our bodies contain enzymes that are designed to allow us to eat and digest both animal and plant foods.
Continue Learning about Diet & Nutrition