Here are some guidelines for identifying a red streak in a newborn's diaper:

• If the spot looks powdery, almost like blush makeup, it may be urate crystals (little particles in urine that are seen when babies drink less the first few days, often because mom's milk supply isn't fully in). Their appearance in the diaper is fairly common in the first few days of life and nothing to worry about.

• If you have a baby boy who was circumcised, there may be a dark yellow or bloody stain on the diaper from the site of circumcision. Examine the tip of the penis for signs of infection and bleeding—call your pediatrician if you see something suspicious.

• If you have a baby girl, it is possible that the red stain is actually blood, but not the kind that warrants concern. Baby girls can have withdrawal bleeding, similar to a woman's period. This occurs after birth because they are no longer exposed to mom's high estrogen levels. Again, it is nothing to worry about and will go away on its own.

If you notice a red streak in your baby's diaper after the first week or have concerns at any time,you should see your baby's pediatrician. Try to bring a diaper with the stain if at all possible so your pediatrician can take a look.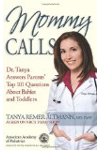 Continue Learning about Diapering & Digestion In Babies