The intradermal vaccine is available for the 2011-2012 flu season as a shot that is injected into the skin instead of the muscle.

Fluzone Intradermal was licensed by the FDA for use in the United States for the 2011-2012 flu season so check with your doctor, nurse, clinic or pharmacist for availability in your community.

The presence of the CDC logo and CDC content on this page should not be construed to imply endorsement by the US Government of any commercial products or services, or to replace the advice of a medical professional. The mark "CDC" is licensed under authority of the PHS.
Continue Learning about Cold and Flu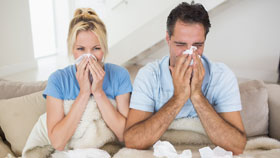 Colds and flu are both viral infections, but have different symptoms. With a cold you will have symptoms such as a runny nose or a sore throat. Flu symptoms come on suddenly and may include fever, body aches or vomiting. While the...
re is no cure for either, there are treatments -- chicken soup, nasal sprays, rest -- which can help your feel better.
More