The flu vaccine works by stimulating the body to produce antibodies to fight viruses with molecular components that resemble those of the vaccine. The effectiveness of the vaccine depends on at least three factors: 1) how closely the vaccine's components match those of the virus causing a given season's outbreak; 2) how effectively the body was stimulated to produce antibodies; and 3) how long these antibodies last. Some seasons are better than others in terms of matching the vaccine to the viruses that end up actually causing outbreaks. The better the match, the better the protection. However, since flu viruses mutate rapidly, the degree of matching drops off dramatically each season. Also, different groups of people tend to have different levels of antibody production in response to the vaccine. Individuals with a greater response to the vaccine will thus have better and longer lasting protection. Furthermore, as antibody levels fade (by approximately 50% in the first six months, with some leveling off over the next couple of years) so does protection. These are the reasons the CDC recommends annual flu shots for adequate protection each flu season.
Flu vaccination provides protection against the influenza strains contained in the seasonal vaccine for the entire season. Vaccination can begin as soon as vaccine becomes available.

CDC recommends that providers begin to offer seasonal influenza vaccination as soon as vaccine becomes available in the fall, but if you have not been vaccinated by Thanksgiving (or the end of November), it can still be protective to get vaccinated in December or later because influenza disease usually peaks in January or February most years, and disease can occur as late as May.

The presence of the CDC logo and CDC content on this page should not be construed to imply endorsement by the US Government of any commercial products or services, or to replace the advice of a medical professional. The mark "CDC" is licensed under authority of the PHS.
Continue Learning about Cold and Flu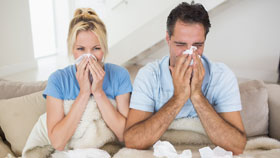 Colds and flu are both viral infections, but have different symptoms. With a cold you will have symptoms such as a runny nose or a sore throat. Flu symptoms come on suddenly and may include fever, body aches or vomiting. While the...
re is no cure for either, there are treatments -- chicken soup, nasal sprays, rest -- which can help your feel better.
More