There is no evidence that herbal teas help when you have a cold. But if you like herbal tea, drink up. It will help you stay hydrated, which is one key to getting well. Keeping hydrated will prevent the mucus in the lining of your nose from drying out, so that you can easily blow it and get rid of the virus that's living there. Be sure to drink at least eight glasses of caffeine-free, nonalcoholic fluid a day when you're sick.
There is no cure for the common cold. But if you get a cold, soothing herbal teas can help you feel better while you are sick. Here are two such remedies. Take the first one for a cold with chills and the second one for a cold with no chills.

To make Ginger Cinnamon Tea, put 3-4 quarter-sized slices of ginger into a teapot of boiling water. Add a cinnamon stick, lemon, and some brown sugar to taste. Drink it twice a day. If you can, drink it in bed and stay under the covers.

To make Peppermint Chrysanthemum Tea, use 1 part dried peppermint to two parts dried chrysanthemum. Boil a teapot of water and add the chrysanthemum. Pour the tea into a cup and add the peppermint. Steep for 5 minutes and add brown sugar to taste.
Continue Learning about Cold and Flu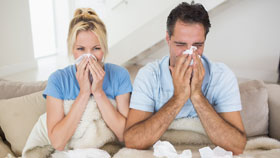 Colds and flu are both viral infections, but have different symptoms. With a cold you will have symptoms such as a runny nose or a sore throat. Flu symptoms come on suddenly and may include fever, body aches or vomiting. While the...
re is no cure for either, there are treatments -- chicken soup, nasal sprays, rest -- which can help your feel better.
More