Coffee's unhealthy reputation stems in part from older studies linking java to an increased risk of heart disease and pancreatic cancer, among other things. But that research failed to account for smoking, which was once coffee's constant companion.

More recent cohort studies, which followed tens of thousands of people for many years, have found that coffee drinkers have no greater risk of heart attacks or strokes; indeed, they appear to have a slightly lower risk. Ditto for type 2 diabetes. Though coffee can temporarily increase blood pressure, there's little evidence that it causes hypertension.

As for cancer, the research overall shows that coffee does not increase the risk, and it's even been associated with lower odds of certain cancers. What's more, coffee drinkers appear have a lower risk of premature death.

One possible reason for these apparent benefits is that coffee is rich in antioxidants. But what about caffeine? That can't be good for you, can it? Indeed, some research suggests that the caffeine in coffee and other beverages may increase the risk of miscarriages, but the evidence overall is mixed. Generally, a cup or two a day (up to 200 milligrams of caffeine) appears to be safe during pregnancy.

Research has also linked more than three cups a day of caffeinated coffee to bone fractures among women who get too little calcium. And caffeine can cause jitters, insomnia, and stomach upset in some people. On the other hand, caffeinated coffee has been associated with a lower risk of Parkinson's disease.

For many people, the biggest health risk from coffee is weight gain. Though a cup of black coffee has only two calories, those Double Chocolaty Chip Frappuccinos and other blended beverages from coffee shops can quickly pack on extra pounds if you're not careful. After all, you want that cup of joe to perk you up, not weigh you down.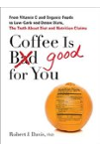 The founder of Mediterranean Wellness, Dr. Will Clower, calls coffee the anti-cancer comeback kid. To find out why, watch this video.
Coffee not only wakes you up, it also provides some unexpected health perks. In this video, Dr. Oz quizzes his audience on how to get the most health benefits out of that morning cup of joe.
Continue Learning about Coffee & Health