Carbohydrates are a key macronutrient. The amount of carbohydrates needed per day varies. In general, an adult needs a minimum of 130g carbohydrate/day. When choosing carbohydrates emphasize whole grain choices such as whole grain breads/cereals, brown rice, etc. over refined/processed carbohydrate food choices.
The recommended intake is a minimum of 130 grams/day, or 45 - 65 percent of daily calories for adults, independent of age or activity level. This is the minimum needed for your brain to function. Athletes are recommended to consume 6 - 10 grams for every kilogram of body weight per day. For example, a typical man weighing 70 kilograms needs 420 grams of carbs per day to fuel his activity. If you are on a low-calorie diet (less than 2000 calories per day), it may be difficult to achieve the 6 grams per day.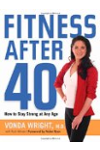 More About this Book
Fitness After 40: How to Stay Strong at Any Age
It's one of the undeniable facts of life. After we reach a certain age, our bodies change. No matter how fit we may have been at 20, we're very different people after 40. But growing older doesn't...
Continue Learning about Carbohydrates