What can I do to stop the itching under my cast?
It can be difficult when the skin under your cast itches. However, do not try to scratch the skin underneath your cast with any sharp objects; it can cause a scratch or an abrasion on your skin and lead to an infection. Do not put any powders or lotions inside your cast. I've seen a variety of items get stuck inside a cast. If something gets stuck in your cast or your skin is at risk for infection, your cast will need to be removed and replaced.
Admittedly, there are few things more maddening than having an itch that can't be scratched. People with casts have been known to improvise a variety of tools to reach and eliminate the itch: pens, tongue depressors, coat hangers and other household items.

The problem is that these approaches can create an even worse problem. If the implement breaks the skin, there's a good chance the wound will get infected. And, because the infection is concealed by a cast, it may not be readily apparent to the person. Needless to say, this is not a good situation.

The best way to treat the itch is to find safe ways to dry the moisture under the cast. Talcum powder can be very effective, though a tight cast might make it hard to deliver to the itch. Another recommendation is a hair dryer on the cool setting. This will dry out the area and, hopefully, relieve the itch. It is critically important to set the hair dryer to the coolest setting; otherwise, there's a burn risk.

At night, Benadryl can also help control the itch. Benadryl doubles as a sleep aid and can help people avoid scratching in their sleep. Of course, because Benadryl does make people sleepy, this solution is not recommended during the day.
Continue Learning about Broken Bones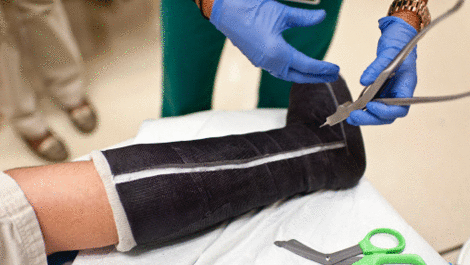 Bones break and fracture in many different ways. Symptoms could be slight or severe, ranging from swelling, bruising and pain to difficulty in using after an injury. To diagnose a break or fracture it may be necessary for your phy...
sician to obtain x-rays and occasionally a CT scan or MRI.
More