What is chondrosis (chondromalacia)?
Dull knee pain that comes on gradually often stems from long-term deterioration of the knee's cartilage. This deterioration is called chondromalacia.
Chondromalacia patella is a softening and deterioration of the cartilage on the back side of the kneecap. Pain, swelling, and a grinding sensation often accompany this pathology. (This answer provided for NATA by the Weber State University Athletic Training Education Program.)
Chondromalacia patella is the softening and breakdown of the cartilage that lines the underside of the kneecap (patella), causing pain in the front of the knee and a grating or grinding sensation when the knee is flexed.
Chondromalacia patella results from degeneration of cartilage due to poor alignment of the kneecap as it slides over the lower end of the thigh bone (femur). It can be aggravated if you are doing too much activity that places extra stress on the kneecap, such as running, jumping or twisting, skiing or playing soccer.
Continue Learning about Joint Health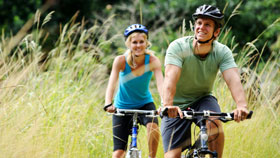 Standing, bending, climbing, walking, running, jumping, lifting a baby -- so many of our daily activities require healthy, functional joints. While some joints (like the knees) provide stability, others (like the wrists, ankles an...
d hips) enable us to move. Learn how to protect your joints from injury and keep your joints healthy for life.
More