If you think you're having a stroke, your face might droop on one side, or you may have trouble moving your arm. Watch Harmeet Sachdev, MD, of Good Samaritan Hospital, explain the symptoms and what to do next.
In this video, Venkat Veerappan, MD from Southern Hills Hospital & Medical Center, says that if you think you're having a stroke, it's crucial to call the ambulance and get to the hospital right away. Time is of the essence!
If you're having a stroke, call 911. If you can't move your arms or legs, or have difficulty seeing or speaking, seek medical care immediately. Learn more from Arash Padidar, MD, of Regional Medical Center of San Jose in this video.
If you think you are having a stroke, immediately call 911 so you can be taken to the nearest hospital. All of the treatments that can reverse or stop a stroke in progress are very time sensitive. For instance, the "clot-busting" drug tPA can only be given if you are able to be treated within 4½ hours of the beginning of your symptoms. For each minute that a stroke goes untreated, 1.9 million neurons die and that is why it is important that strokes are treated as quickly as possible.
The only correct thing you can do for symptoms of acute stroke is to get that person to the nearest emergency room immediately. A lot of times people are embarrassed about their symptoms, and since it usually doesn't hurt they may not feel urgency to go to the hospital. A lot of times with a stroke, you'll get a warning stroke before the big one. Even if it's minor, always go straight to the ER.

If the flow of oxygen-rich blood to a portion of the brain is blocked, a stroke occurs -- and brain cells can begin to die after just a few minutes. Sudden bleeding in the brain may also cause a stroke. Symptoms include sudden weakness, paralysis or numbness of the face, arms or legs; trouble speaking, understanding speech and seeing. A stroke is a serious medical condition requiring emergency care. It can cause lasting brain damage, long-term disability or even death.

Emergency care for stroke may involve injecting tissue plasminogen activator (tPA) into a vein in your arm. TPA is a drug that can break up blood clots in the arteries of the brain. But it must be given within four hours to be effective, and therefore should be given as soon as possible.

If you suspect you or someone else is experiencing the symptoms of a stroke, dial 911 immediately. Don't drive to the hospital or let someone drive you -- medical personnel in an ambulance can begin this lifesaving treatment on the way to the emergency room.
If you think you're having a stroke, call 911 and then lie down and await care, says Phaniraj Iyengar, MD, a vascular neurologist at Sunrise Hospital. In this video, he says that an alert button can be a lifesaver for many reasons.
If you think you might be having a stroke or that someone you are with is having a stroke, call 9-1-1 immediately. In a typical stroke, 2 million nerve cells are lost every minute that goes by without a treatment. Since time lost is brain lost in acute stroke, it is important to get to the hospital immediately.
One of the most important things to do if you think you're having a stroke is to remember the acronym FAST -- and also act fast!
F: FACE
Vision disturbance
Uneven smile
Facial droop/numbness
A: ARMS and LEGS
Weakness
Numbness
Difficulty walking
S: SPEECH
Slurred
Inappropriate words
Mute
T: TIME
Time is critical
Call 911
Here's what to do if you are having symptoms of a stroke:
Call 911 for an ambulance. Say you are having a stroke and need help quickly.
Check the time so you will know when your stroke symptoms started.
Do not try to drive yourself unless it is the only option.
Do not call your healthcare provider and wait for a return call.
When communicating with ambulance or hospital staff, be sure to use the word "stroke."
It is important to get medical attention quickly. Do not wait! Time saved is brain saved.
When stroke symptoms occur, quick action is vital. If you think you or someone with you is having a stroke or transient ischemic attack (TIA), call 911. You should be taken to a hospital emergency room, preferably one that specializes in treating stroke as it occurs. If you know you are at risk for stroke, find out ahead of time the name and location of the nearest hospital that specializes in treating acute stroke.
A stroke is a life-threatening emergency. It is the third leading cause of death and number one cause of long-term disability in the United States. Just as with a heart attack, seconds count in stroke treatment. Quick treatment increases survival odds and is the best chance for limiting damage to the brain.
If you think you may be having a stroke, there are two things you can do to improve your odds for a good outcome.
First, dial 911.
Second, tell the paramedics in the ambulance and the doctors and other medical professionals that you come into contact with at the hospital that you think you may be having a stroke. This alerts them of the potential seriousness of your symptoms and helps guide initial diagnosis and treatment.
Continue Learning about Stroke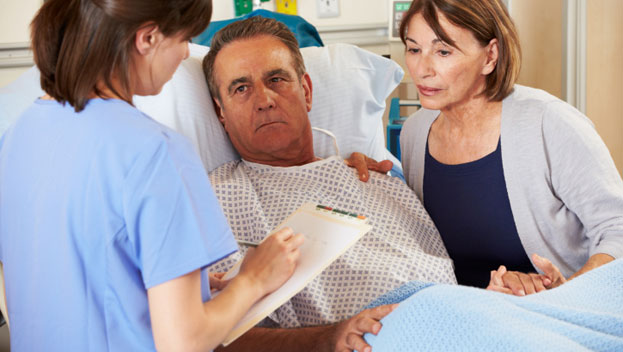 There are several different types of strokes and they can affect the body in very different ways. Learn more from our experts.