To choose the right mental health expert start by asking your primary care physician for a recommendation (and find out if the psychiatrist or other mental health expert is in your insurance network). Call your health insurance company and ask for a list of in-network providers. Sometimes these lists are on the company's web site. Ask friends if they know of good mental health experts. Check online (or in your yellow pages) for psychiatrists, psychologists, or social workers. Contact local nonprofit mental health organizations.
If you have bipolar disorder, choosing a therapist should be done carefully. Rather than simply choosing one from a phone book, ask for a referral from a primary health care provider, church, or local mental health agency, or family and friends. If you are not comfortable asking family or friends, referral hotlines of professional organisations, including your state or local medical society, and other professional organisations and groups can also make referrals to therapists.

The therapist should be someone whom you can trust. Finding a "good fit" with a therapist will be a key to successfully completing therapy. The key to finding a good fit is to find someone you are comfortable with, someone with whom you are able to be honest and open. If you cannot provide information about your life and your disorder, you cannot expect to make good progress. Because therapy can be time consuming, do not invest in a therapy relationship that is not comfortable for you. Give it a chance, but if it is not working, seek another therapist who meets your needs.
The most obvious answer to this question is that you want a therapist who has experience working with bipolar disorder. It is a complex illness, and it's important that your therapist understand the illness and its different states.

Just as important, however, you want a therapist with whom you have a good connection and who you feel comfortable with. You need to be able to trust your therapist, or you won't get very far in therapy. Research has shown that, more than anything else, the relationship a person has with his or her therapist will determine how effective treatment is.

So when looking for a therapist, interview a few first. Most of us can't afford to pay for a "trial" session just to meet a therapist before making this decision, but make some phone calls -- you should be able to get a sense of whether or not you might be able to work with the person. Does she take time to answer your questions, or do you feel like she's trying to get you off the phone? Is she patient? If you have certain requests -- like bringing your partner into the first session with you -- is she flexible? And, of course, does she have experience working with bipolar disorder?

Often your healthcare team will be able to provide you with names of people; word of mouth is usually the best way to find someone to help you.

The answer depends on if you are treating the condition of bipolar disorder itself, learning to accept the diagnosis and manage the disorder, or dealing with post episodic repair and reconstruction (repairing relationships and situations that were impacted during a manic or depressive episode).

Bipolar Disorders are often first recognized when someone is in the "manic" phase of the disorder. Mania can be highly disruptive to a person's life; experienced as an abnormally elevated mood or irritability, high energy level and extreme state of arousal. Because of the extreme signs and symptoms, a person in a manic phase often needs to be hospitalized for their own safety until medication can balance out the neuro-transmitters (hormones) in the brain. When the person is no longer a danger to themselves or others and is organized in their thinking and behavior, they are usually released to be treated by a psychiatrist or psychiatric nurse practitioner, a psychotherapist or professional counselor, and at times even a case manager to provide levels of care addressing the various bio-psycho-social impacts of this disease.

Psychiatrists and psychiatric nurse practitioners often manage medication only. It's possible to find a psychiatrist who provides talk therapy, but they aren't common or economical. Master and doctoral level therapists assist clients with bipolar disorder come to terms with the diagnosis and learn to make changes in their lives so that a relapse is prevented, postponed or lessened in severity. Some people find it harder than others to accept and manage their disorder. Some can be well managed on medication and have few disruptions down the line. Others find it hard to accept and attempt to minimize or even wean off the medication because they miss the energy, motivation and elevated mood.

Relapse for patients with bipolar disorder is very common so ongoing therapy and monitoring in the first few years following diagnosis is especially smart until the client understands how to spot the early signs of relapse, has a good plan of prevention in place and a strong support network they trust.
When choosing a therapist for bipolar disorder diagnosis and treatment, contact your healthcare provider and ask for recommendations. Join a support group (online or in your town) and ask members for recommendations. Or, search online for experts on bipolar disorder who are located in your area. The goal is to have a list of at least five mental health practitioners who could potentially diagnose and treat you. You'll want to consider several factors when assessing whether a particular medical provider is right for you:
Is the mental health provider accepting new clients? (This should be your first question, because if the answer is no, there's no point in asking the remaining questions.)
Is he or she licensed to practice in your state? Does the mental health provider specialize or have substantial experience in treating bipolar disorder? What percentage of his or her practice is made up of people living with bipolar disorder?
Does the mental health provider accept your insurance, and what percentage of the cost of treatment would be covered by your insurance plan? If you have no medical insurance, ask if there's a sliding-scale payment plan. If not, ask how much it will cost you. What would be your out-of-pocket expenses for treatment?
What kind of education does the provider have? Does he or she have MD, Psy.D., Ph.D. (psychology), or social worker credentials? Where was the provider trained?
How long has the provider practiced in your area? Is the provider affiliated with any universities or hospitals?
What method of treatment does the provider use? (Look for a combination of medication and psychotherapy, and encouragement for you to use support groups.) Does he or she use cognitive behavioral therapy (CBT) or some other kind of therapy, and what do these methods entail in implementing your treatment plan?
What is the provider's treatment philosophy?
Use this information to narrow down the field to two therapists with whom to make appointments so that you can interview them and discern which one best suits your personality. This will be an intense and long-term relationship, so you need to take the care up front to select the best practitioner for you. Only you can judge the responses to the questions above, because everyone has different priorities. Most of all, you'll want to work with someone who is licensed to practice in your state and has a specialization or experience in bipolar disorder.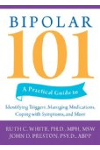 Continue Learning about Bipolar Disorder Treatment