The body and the muscles and joints of the body work best when the body is in a certain alignment whole moving. These ideal positions help the muscles and joints to produce and reduce force in the best manner. The ability to optimally produce and reduce force is what minimizes the risk of injury. The best to ensure proper body alignment is to eliminate any muscle imbalances by identifying them and getting rid of them. Muscular imbalances can be identified using movement assessments like the overhead squat. During movement the bodies joints will move based on what muscles are tight, weak, or not working optimally. Once you identify muscle imbalances, strengthen weakened muscles, lengthen tight ones and this will improve posture and help train good form. If you want to learn how to identify muscle imbalances consult a personal trainer experienced in performing muscle imbalance tests.
Taking the time to align your body with correct form prevents injury. It also helps you balance your muscle groups for long-term postural benefits.

Continue Learning about Avoiding Pain & Injury During Exercise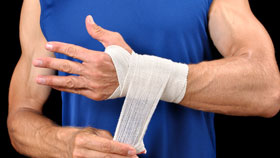 Whether you are involved in aerobics, jogging, cycling or team sports, there are many things you can do to prevent injuries during exercise. Avoid sore arms, leg cramps, muscle spasms and pains by performing warm up exercises. Thi...
s is a must so you don't have tight stiff muscles, increasing your chance of muscle injury. Avoid overexertion; exercise at a pace that is comfortable for you. Learning correct posture and form can also prevent your muscles being used in an awkward way.
More