Common errors when doing the trapezius-strengthening exercise (an exercise that restores trapezius muscle strength to assist in shoulder elevation and scapular rotation) include:
If you feel pain in your shoulder, be sure your elbow does not rise off the table higher than your wrist. Focus on using your scapulae (shoulder blades) to raise your elbow rather than using your shoulder joint. Put more pillows under your chest so your arms begin in a more relaxed position.
If your head arches back, then you can develop neck pain as a result of this exercise. Keep your head down and relaxed. Just focus on the muscles that squeeze the shoulder blades together.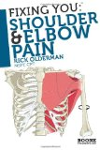 The trapezius is a large muscle spanning the middle and upper back. The muscle is typically divided in to three portions; the upper, mid, and lower trapezius. The upper trapezius runs from the shoulders to the neck and elevates the shoulders. The middle trapezius runs from the shoulder to the middle of the back. The lower trapezius runs from the shoulder to the lower third of the back.
These muscles assist with raising, retracting and depressing the shoulders. In many individuals the upper trapezius is overactive. Thus when trying to work the middle traps and bring the shoulders straight back the upper trapezius will take over and cause the shoulders to elevate. Make sure you are not contracting the upper trapezius when performing middle and lower trapezius exercises. Over activation of the upper trapezius can lead to many issues, such as shoulder pain and tension headaches.
Continue Learning about Avoiding Pain & Injury During Exercise