Autism can be diagnosed as early as 12 to 18 months, and early treatment is one key to successful management of the disorder. Your pediatrician should do developmental screening at the 18-month well-baby checkup, but a parent's observations are important for diagnosis. The First Signs website contains valuable screening tools, or ask your doctor about the Modified Checklist for Autism in Toddlers (M-CHAT).
Several studies of at-risk infant siblings of children with autism have suggested that the earliest signs of autism can be detected as early as 10-12 months, with reliable diagnosis possible in children under 18 months.
Watch as licensed psychologist and autism specialist Dr. Ronald Leaf discusses how early in childhood autism can be detected.
Continue Learning about Autism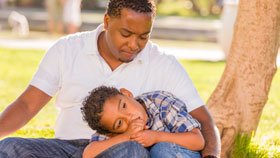 It's at age two or three that an autistic child begins showing symptoms of autism spectrum disorders. You pick the child up, and they stiffen up, or may go limp. They no longer smile, don't maintain eye contact, loose language ski...
lls. Autism spectrum disorders include a range of difficulties that can affect social skills, learning, and intelligence. Some children with autism have milder symptoms than others. Medications, education, and behavior management can help autistic children.
More