Autism spectrum disorders (ASDs) are related disorders that have some of the same characteristics. ASDs have to do with the way the brain develops and affect the way people relate to others and how they use language. Autism is the most well known of the autism spectrum disorders, but Asperger's syndrome and childhood disintegrative disorder, as well as other less common conditions, are also part of the spectrum.
Simply broken down, ASD includes a range of neurological and developmental impairments that affect how individuals interact socially, communicate verbally and nonverbally, think, learn, move and play. An estimated 1 in 150 children falls somewhere within the autism spectrum. In most cases, the cause is unknown, though sometimes there is a strong genetic component. Continued biological and environmental research is needed to understand what triggers most autism.
From The Smart Parent's Guide: Getting Your Kids Through Checkups, Illnesses, and Accidents by Jennifer Trachtenberg.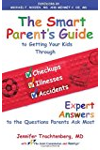 More About this Book
The Smart Parent's Guide: Getting Your Kids Through Checkups, Illnesses, and Accidents
What to Do When You Don't Know What to Do! "Moms and dads need expert guidelines, especially when it comes to their kids' health. This book reveals the inside strategies I use myself-I'm a parent, too!-to avoid critical, common blunders where it matters most: in the ER, pediatrics ward, all-night pharmacy, exam room, or any other medical hot spot for kids. These tips could save your child's life one day. Even tomorrow." -Dr. Jen Making health care decisions for your child can be overwhelming in this age of instant information. It's easy to feel like you know next to nothing or way too much. Either way, you may resort to guessing instead of making smart choices. That's why the nation's leading health care oversight group, The Joint Commission, joined forces with Dr. Jennifer Trachtenberg on this book: to help you make the right decisions, whether you're dealing with a checkup or a full-blown crisis. The Smart Parent's Guide will give you the information you need to manage the pediatric health care system. Dr. Jen understands the questions parents face—as a mom, she's faced them herself. She walks you through everything: from how to choose the best ER for kids (not adults) to when to give a kid medicine (or not to) to how pediatricians care for their own children (prepare to be surprised). Her goal is your goal: to protect the health of your children. There simply is nothing more important.
Autism spectrum disorder (ASD) is a developmental disability that some people are born with, affecting the way a person behaves, learns, communicates and interacts with others. ASD covers a wide range of symptoms and disability levels. This means it affects different people in different ways, and people with ASD are all unique and different from each other.
Continue Learning about Autism