Here's a smart way to approach whether a specific treatment might be worth trying on your child.
How good is the evidence for it? Your doctor can help you weigh this. In the case of music therapy, there's some scattered positive evidence but it's hardly conclusive.
How safe is it? With music therapy, there's unlikely to be any risk. With major diet changes or drugs, the risk is much higher.
How expensive is it? Is a music therapist even available in your area? Will regular treatments require significant time/money sacrifices from other members of the family? Are they game for this?
What do you think the benefits will be? Are there specific symptoms you hope to see improved, or are the reputed benefits pretty vague?
Finally, try one treatment at a time to evaluate its effectiveness, and be aware of what your child's abilities are when you start. And remember, autism tends to have ups and downs, with bursts of improvement mixed with times of slower learning or even periods of regression. Because of this variability, it may be difficult to establish a cause and effect for a given treatment.
From The Smart Parent's Guide: Getting Your Kids Through Checkups, Illnesses, and Accidents by Jennifer Trachtenberg.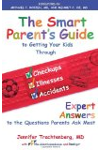 Continue Learning about Autism Spectrum Disorders (ASD) Treatments