If you do not have to take medication as often, there are fewer pill bottles to open, fewer pills to take and less stress about missing a dose. Ask your doctor if a long-acting or time-release version is appropriate for you.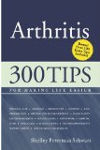 More About this Book
Arthritis
Arthritis: 300 Tips for Making Life Easier is a compendium of tips, techniques, and life-task shortcuts all learned from personal experience. Author Shelley Peterman Schwarz has lived with a chronic...
You can take a Slow Medicine approach to treating arthritis.
When you are stressed out, the body's sympathetic nervous system switches on, putting you into fight-or-flight mode. This stimulates the adrenal glands and sets off a body-wide inflammatory response. This can worsen any existing inflammatory conditions, including arthritis.
Therefore, a key to dealing with arthritis is an anti-inflammatory lifestyle. Such a lifestyle is one that activates the sympathetic nervous system's shut-off switch: the parasympathetic nervous system. This is the body's rest-and-digest mode.
An anti-inflammatory lifestyle is one that nourishes, soothes and heals us. Your body, mind, heart and soul are connected. Which means your parasympathetic nervous system can be activated on the physical, mental, emotional or spiritual levels.
Here are some ways to do that:
Eat nutrient-dense, whole foods.
Read thought-provoking books.
Spend time with those who make you feel secure and loved.
Meditate or pray.
By going to your happy place on all these levels at the same time, you amplify the impact of each act, in a united effect that I refer to as "healthy multitasking." An example is going for a walk (physical) in the forest (spiritual) with a close friend (emotional) and enjoying a meaningful conversation (mental).
On the physical level, Slow Medicine also guides you on a balanced approach to strengthening your muscles and joints but not overusing them. For example, you could walk on a dirt trail instead of jogging on a cement sidewalk. Or, try gardening instead of lifting weights.
Whether you want to prevent or manage arthritis, it is never too late to become mindful of how to move in ways that support the body instead of damage it.
This content originally appeared on http://blog.doctoroz.com/oz-experts/slow-medicine-for-arthritis
Continue Learning about Arthritis Treatment