The bacteria that cause pimples are called Propionibacterium acnes, or P. acnes for short. These bacteria live on your skin all the time. They become a problem only when a pore becomes blocked. This happens when excess oil or sebum mixes with dead skin cells to form a "plug." The bacteria build up in the oil inside the blocked pore. The body responds by sending cells to kill the bacteria, causing the pore and surrounding skin to swell and creating the little red bumps with white centers known as pimples.
Staphylococcus bacteria, or "Staph" for short, are a common type of germ that lives on the surface of the skin and can contribute to pimples, under the right conditions. Watch the animation to learn more.



Continue Learning about Acne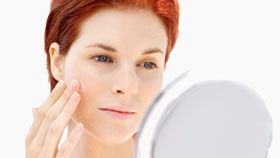 Acne is an inflammatory condition of the skin. Learn from our experts on the difference between whiteheads, blackheads and bumps and how to cope with the stress of acne.