Here's how to do the side plank exercise:
1. Lie on your side and brace your core muscles.

2. Raise yourself up on the side of one foot and your elbow.

3. Raise your trunk off the floor. Do not let your middle sag. Squeeze your obliques. (The obliques are the muscles that cover the sides of your body.)

4. Hold for 30 seconds and increase the hold to two minutes as you improve. Alternatively, you can hold for ten seconds and repeat ten times.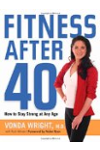 More About this Book
Fitness After 40: How to Stay Strong at Any Age
It's one of the undeniable facts of life. After we reach a certain age, our bodies change. No matter how fit we may have been at 20, we're very different people after 40. But growing older doesn't...
To perform the side plank exercise, following these instructions:
Preparation
Lie on one side with feet and legs stacked on top of each other and forearm on ground.
Movement
Draw abs in, activate glutes and brace.
Lift hips and legs off the ground until the body forms a straight line from head to toe, resting on forearm and feet.
Hold for one to two seconds.
Slowly lower body to the ground
Switch sides and repeat as instructed.
Use a mat for this exercise, especially if this is your first time attempting to do it.
Lie on your left side.
Place your forearm in front of you onto the mat. Position yourself so that only the forearm of your left hand plus the left side of your hips and legs are in contact with the floor.
Position your other hand either palm down onto the mat in front of you, on your hip in the akimbo style or behind your head. Maintain good core body posture and balance by first using your right hand as leverage on the mat.
Set your left leg directly atop the other or place the top (left) leg in front of the bottom (right) one. If you place them atop one another then the inside curvatures of your feet should touch in a way that they mirror each other.
Inhale and contract your abdominal muscles, pulling them inward. As you get more comfortable and better balanced in this exercise, you can contract your butt muscles also.
Exhale as you lift upwards using your left forearm and left foot. Do 8 to 12 repetitions. Repeat the side plank exercise on your right side and do this as many times as you'd like, feeling the burn primarily in your chest, back and core abdominal muscles.
Read more: How to Do Side Plank Exercises | eHow.com http://www.ehow.com/how_2212926_do-side-plank-exercises.html#ixzz1yJF0Renq
Continue Learning about Ab/Core Exercises