6 Ways To Have A Healthier Halloween
You don't have to sacrifice candy or fun.
Medically reviewed in October 2020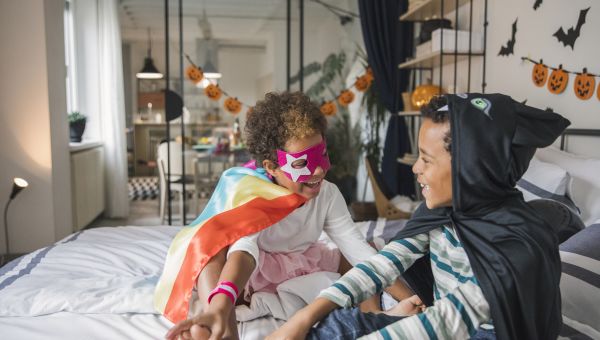 1 / 7
Kids love Halloween—and maybe you do too! In fact, the National Retail Foundation predicts that roughly 175 million Americans celebrated in 2018. Unfortunately, this year's spooky celebrations may look a little different. Due to the ongoing pandemic, many families are opting out of trick-or-treating and large parties in favor of family-only activities or small outdoor gatherings. Even on a smaller scale, there are still many ways to have a treat-filled Halloween.
Even without trick-or-treating, candy is still the main draw of the holiday, especially for children. While one evening filled with sugar isn't going to make or break most people's long-term health goals, it can't hurt to incorporate wholesome treats and fun games into your festivities this year. Not to mention, healthier activities will allow you and your kids to focus on something other than the candy.
Here are some health tips that will help your family move more and cut calories, without sacrificing all of the spooky fun. 2 / 7
Replace sugar-laden treats with nutritious alternatives
Creating a healthier Halloween party includes limiting the amount of sugary beverages and sweets served to your family. These foods are often just empty calories with no nutritional value. They also contain added sugar and syrups, which are put into foods during processing or preparation.
"We want to teach kids that it's okay to have some treats, but it should be in moderation as part of an overall healthy diet," says Anne Brock, RDN, LD, of West Valley Medical Center in Caldwell, Idaho.
Consuming a lot of added sugar on a regular basis can lead to unintentional weight gain and obesity, along with serious conditions like inflammation, diabetes and high blood pressure. It can also negatively affect your dental health, causing cavities and tooth decay, says Brock.
But for most healthy children, one day of sugar may not do a whole lot of damage. If you're looking for healthier alternatives for your family or small party, Brock suggests trying these options:
Prepacked and sealed fruit like oranges, grapes or apple slices
Popping your own popcorn in a healthy fat and placing them in single-serve snack bags
Non-edible items like pencils, erasers, spider rings and glow sticks
And if you do buy candy, stick to bite-size pieces rather than full-sized bar. 3 / 7
Serve your homemade treats first
Try setting out healthier homemade treats before any candy and sweets. That way, both everyone can fill up on the nutritious foods before reaching for desserts.
A healthy spread for your family can include carrots, celery, grapes, guacamole, hummus (with a little orange food coloring) and apple chips. Or simply eat a healthy lunch or dinner before having candy.
And you can also use this opportunity to add seasonal treats to your menu. Vitamin-A rich roasted pumpkin seeds and pumpkin chocolate muffins are a few easy ideas. More great alternatives include pumpkin pie dip with low-fat cream cheese and Greek yogurt or popcorn balls with pumpkin seeds mixed in. Bake apples or pears with cinnamon or try homemade baked sweet potato chips with a topping of your choice. We love olive tapenade, a tangy coleslaw or guacamole.
You can also make Halloween-themed treats like banana ghosts by cutting a banana in half and decorating it with chocolate chips for the eyes, nose and mouth. Pumpkins can be made of mini peeled oranges with a celery stalks sticking out of the middle for the stem.
Get creative with your beverages too. Instead of soda and juice, try serving "potions"—still or sparking water flavored with berries, apples or oranges. Mini smoothies with vanilla yogurt, canned pumpkin and cinnamon can also be filling. 4 / 7
Serve smaller portions
We're not suggesting you completely forgo your family's favorite Halloween candy this year. While it's certainty better to reach for the healthier alternatives, there's no doubt everyone is going to indulge a little. When you do, tone down the portion size of your candies. Choose fun-size versions of your favorite treats instead of full-size. If you're baking, try miniature cupcakes or muffins or bite-size cookies or brownies. 5 / 7
Have games and activities to keep everyone moving
Another way to keep your Halloween on the healthier side is by encouraging your family to move.
If you can still trick-or-treating in your community, all of the walking can help you get your steps in burn calories. Games and activities can do the same if you're at home. Playing allows children to exercise their creativity, imagination and cognitive skills, too.
Some fun game ideas include:
Zombie dance party
Costume parade
Three-legged monster race
Pumpkin toss or pumpkin bowling
Scavenger hunt
Apple eating contest
Halloween-themed charades 6 / 7
Get creative with leftover candy
If you buy way too much candy, there's no need eat it for the entire month of November. In fact, you don't have to eat it at all. Try donating your individually wrapped candy or creatively saving it for future holidays and projects.
Soldiers' Angels Treat for Troops allows you to donate your candy to deployed service members and veterans in VA hospitals across the country. The Halloween Candy Buyback initiative allows companies to purchase your candy so they can ship it to troops overseas. Another organization called Operation Gratitude allows you to ship your Halloween candy to their office so that they can ship it out to troops, too. Other organization that may accept donations include nursing homes, shelters, Big Brother Big Sister and the Ronald McDonald House Charities.
If you want to keep some of the candy, chop it into bite-size pieces and freeze to add to cookies, cakes, milkshakes, ice cream and gingerbread houses later on. You can also mix leftover candy with whole-grain cereal and nuts to create trail mix, says Brock. And if you really want to get creative, you can use leftover candy as a learning tool. M&Ms, for example, can be a great way to teach your child about colors and counting. 7 / 7
Always play it safe
No matter what you're doing or eating on Halloween, it's important to be safe—and to encourage you kids to practice safe habits. That starts with protecting your family from COVID-19. If you are celebrating with people outside of your household, it's important to wear a mask. Do not wear your cloth mask under a costume mask, as it can make breathing more difficult. Instead, make your cloth mask part of your costume. If you throw or attend a small outdoor party, use hand sanitizer frequently.
If the infection rate is low enough in your community that you can trick-or-treat, be sure to follow some precautions. Only go with your immediate family. Keep at least 6 feet of distance from other families, keep interactions short and don't reach into communal bowls. Many communities are creating one-way trick-or-treating routes to keep crowds to a minimum. Encourage your family to wash their hands when you return home. If your children trick-or-treat around the neighborhood, they should always do so with an adult.
If you are handing out candy, prepare individually wrapped goodie bags. Wash your hands for at least twenty seconds before and after preparing the bags. Set up your table outside so trick-or-treaters do not have to walk up to your house.
Here are some other ways to ensure you have a safe Halloween:
Be creative with costumes: Make sure your children have reflective tape or stickers somewhere on their bags and costumes. If possible, opt for light-colored costumes so your children are easily visible. For fun (and safety), Brock likes to use glow sticks and glow-in-the-dark candy buckets too.
Walk safely: It may sound obvious, but when the kids get excited, they could take off running down the street, forgetting everything they've learned about street safety. Always remember to use traffic signals, crosswalks and sidewalks. Avoid using electronic devices when walking around. Be aware of cars that are backing out of driveways and parking spots.
Be a cautious driver: If you're driving around this Halloween, slow down and take extra time at intersections, medians and curbs. Most kids trick-or-treat between the hours of 5:30pm and 9:30pm—depending on the location—so pay special attention during those hours.
Evaluate the loot: Once your kids come home, you'll want to be sure to check all of their treats to be sure they're sealed. Throw away anything that's been opened, torn, has holes in it or is rotten. Discard any homemade candies and treats if they weren't made by someone your family knows. Replay Slideshow