7 Ways to Spruce Up Your Lunch
These homemade lunches are healthier and more delicious than grabbing takeout.
1 / 8
Office vending machines and local eateries can be pricey, and don't usually offer the healthiest options. Packing your lunch is simple, cost-effective and a great way to ensure you'll have wholesome eats on hand, whenever hunger strikes.
A healthy meal should be made of:
Fruits
Veggies
Whole grains
Lean protein
Healthy fats
You're probably wondering how all that nutrition fits into a single lunchbox. Well, wonder no more. Here are seven of the best lunchtime combinations for your work bag.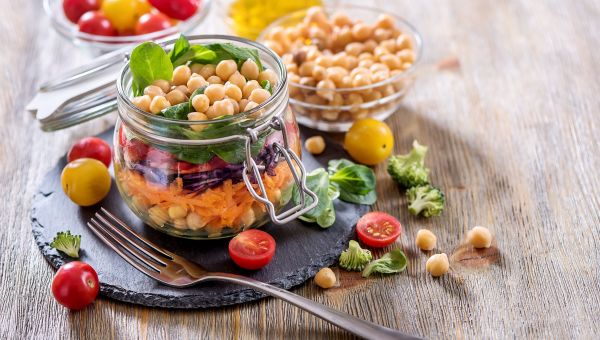 2 / 8
Mason Jar Salad
Leafy green salads are a lunchtime staple, but they can be tricky to transport. Grab yourself a 32-ounce mason jar and load in your favorite ingredients.
We recommend 1 cup of nutrient-rich spinach, a 1/2 cup each of sliced cucumber, bell pepper and carrot, a handful of cherry tomatoes and a 3-ounce serving of grilled chicken breast. Skip the store-bough dressings and flavor your salad with a drizzle of olive oil and a splash of balsamic vinegar.
To keep your salad crisp until lunchtime, spoon your dressing in the bottom of the jar before layering the rest of your mix-ins, making sure to save your lettuce for last.
No lunch is complete without a snack or two. Pair your salad with 2 tablespoons of a fruit and nut medley—a combination of dried fruit and raw nuts—and a piece of seasonal fruit, like a juicy pear. The whole kit and caboodle will run you just 430 calories. 3 / 8
Thai Peanut Lettuce Wraps
Add some creativity to your lunch hour with this Asian-inspired, deconstructed dish. Take a divided container and place the following in their own compartments: three Bibb lettuce leaves, 1 tablespoon each of chopped peanuts and sliced scallions, 1/4 cup of shredded carrots and 3 ounces of your favorite lean protein, like beef, chicken breast, ground turkey or tofu, cooked to your liking
To dress your wraps, whisk together 1 tablespoon of liquid aminos, or low sodium soy sauce, and freshly grated ginger to taste. If you like a bit of spice, add a dollop of hot chili sauce. When lunchtime rolls around, load your lettuce leaves with your prepared ingredients.
Pack your wraps along with 1 cup of fresh, diced pineapple and the same-sized serving of celery sticks for a lunch that contains fewer than 340 calories and more than 18 grams of protein. 4 / 8
Turkey and Spinach Wrap
Upgrade your old-school turkey-and-cheese rollups with this turkey, spinach and Swiss wrap. Be cautious when choosing your tortilla; some are loaded with calories and refined carbs. Whole grain wraps with about 100 calories are a good choice.
Before work, spread 1 tablespoon of mustard or hummus to your wrap. Load in a 3-ounce serving of low-fat sliced turkey breast, 1 ounce of thinly sliced Swiss cheese, 1/4 cup of tomato slices and a 1/2 cup of fresh baby spinach. Fold up your nutrient-packed sandwich and pack it along with 1 cup of sliced strawberries and 3 ounces of baby carrots.
This lunch totals just 400 calories, but is packed with protein and fiber, which will help fill you up until dinnertime. 5 / 8
Turkey and Veggie Chili
This hearty lunch option may be exactly what your body needs to power through the rest of the afternoon. The recipe is simple: just combine a few wholesome ingredients to make the healthiest and most delicious chili, ever.
In your slow cooker, combine one chopped and sautéed onion, 1 pound of cooked ground turkey and two 15-ounce cans of beans; black beans and kidney beans are tasty choices. Avoid extra sodium by giving your beans a good rinse before adding them to your pot.
Add one large can of crushed tomatoes, your favorite blend of herbs and spices and any extra veggies you'd like. Have bell peppers, mushrooms, tomatoes or carrots on hand? Chop them up, throw them in and let your chili simmer on low heat for a few hours.
A single pot makes about five servings, so you can enjoy this dish throughout the week or share with the rest of the family. When it's time to pack your lunch, ladle yourself a serving and toss in a ripe, red apple for a full meal with just 500 calories.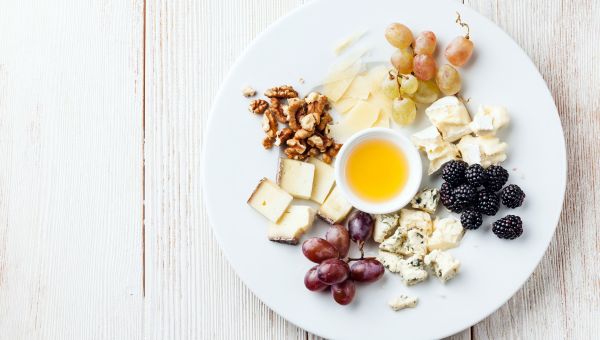 6 / 8
Fruit, Nut and Cheese Sampler Platter
This midday option sounds like something you'd order at an expensive restaurant—and it tastes like it, too. For a great on-the-go lunch, load up with these foods, which provide tons of protein, fiber, healthy fats and a little bit of sweetness.
To a large, travel-friendly container or a few zipper bags, add:
1 cup of grapes
A 1-ounce serving of whole grain crackers
One wedge of spreadable, low-fat cheese
3 ounces of low-fat sliced turkey breast
A 1/2 ounce of almonds (about 12 nuts)
1 cup of bell pepper slices
This filling smorgasbord contains just 465 calories, so dig in without guilt. 7 / 8
Mini Crustless Veggie Quiche
Eggs are a great breakfast option, but they make for a healthy afternoon meal, too.
Preheat your oven to 350°F. Whisk together six eggs and some of your favorite chopped veggies, like spinach, mushrooms and tomatoes. Pour your mixture into a six-cup muffin tin and sprinkle with freshly ground pepper, or other no-calorie seasoning. Pop your pan into the oven and bake until the eggs are no longer runny, about 15 minutes. For an extra punch of healthy fat and flavor, spoon on 1 tablespoon of salsa and avocado once your quiches are cool enough to eat.
Pack two quiches with 1 cup of plump blueberries, the same-sized serving of cucumber slices and 2 tablespoons of hummus. Extras included, this lunch weighs in at just 330 calories.
Store muffin leftovers in an airtight container; warm them in the microwave for about 30 seconds before digging in.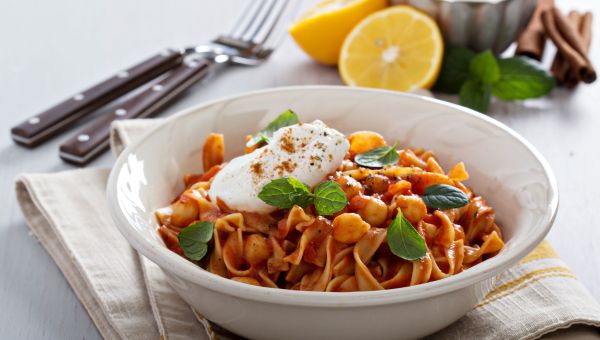 8 / 8
Whole Grain Pasta with Chickpeas
You don't have to swear off this filling, Mediterranean dish because you're trying to stay svelte. Just enjoy it in moderation!
Boil up a 2-ounce serving of whole grain pasta, and get ready to load in the flavor. With your pasta cooked and drained, spoon in a 1/2 cup of your favorite marinara sauce. If you're using store-bought sauce, check the sugar content; some jarred sauces can be real sugar bombs.
Next up: protein and veggies. Toss in 1/4 cup of garbanzo beans and a heaping handful of fresh spinach. Let the flavors meld together before storing it in an airtight container to take with you.
Round out this wholesome meal with a juicy clementine, plus 1 cup of cherry tomatoes dipped in 2 tablespoons of tzatziki, a creamy yogurt and cucumber dip flavored with loads of fresh dill. You won't be disappointed with this 470-calorie dish, and you won't be left hungry either. Replay Slideshow