7 Blender-Friendly Recipes That Aren't Smoothies
A blender may be all you need to make healthy, satisfying snacks, meals, and desserts.
Updated on August 16, 2022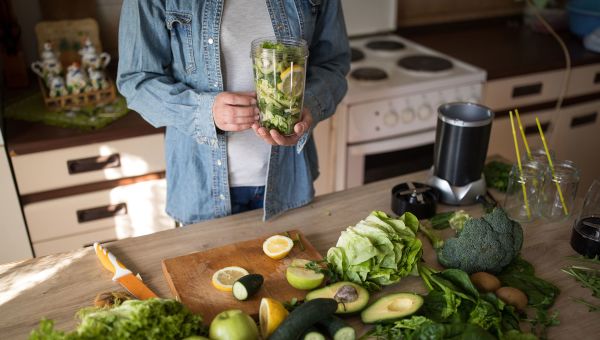 1 / 8
A blender is the perfect tool for whipping up a post-workout shake or a refreshing smoothie, but it can also come in handy for creating other recipes, too. Take a break from your slow cooker, microwave, or oven and try blending up easy lunch, snack, and dessert recipes, including cold soups and even ice cream. These quick, no-cook recipes are all low in calories and loaded with vital nutrients. 2 / 8
Pineapple and cucumber gazpacho
Gazpacho—typically made from raw, blended veggies—is a staple in Spanish cuisine, and this refreshing recipe is perfect for a warm summer evening. This dish tastes decadent, but it's made with low-calorie ingredients. Plus, it couldn't be simpler to whip up.
Begin by prepping your ingredients: 3 cups chopped pineapple, 3 cups chopped and peeled cucumber, 1 cup of unsweetened pineapple juice, the juice of one lime, one seeded and sliced jalapeno pepper, and 3 to 4 tablespoons of fresh cilantro to taste.
Toss in your ingredients and blend until everything is combined. Refrigerate for at least 30 minutes before serving. Top with a sprinkle of sliced green onions.
The recipe makes several servings. One fourth of the batch contains just 110 calories. The ingredients are also loaded with hydration. Pineapple is rich in immune-boosting vitamin C, too, which helps produce and repair bone and skin cells. 3 / 8
Chocolate and avocado pudding
This delicious pudding is full of heart-healthy fats and contains just 190 calories per half cup.
In a blender, combine two very ripe avocados, half a cup of unsweetened cocoa powder, a teaspoon of vanilla extract, half a teaspoon of cinnamon, and splash of unsweetened vanilla almond milk. Add milk as necessary to reach your desired consistency. Once your ingredients have combined, transfer to an airtight container and refrigerate until cool.
Even though this dessert looks just like the chocolate pudding packs of your childhood, it is more than just a sweet snack. The batch makes four servings, and each contains about 12 grams of healthy, unsaturated fats, which have been shown to help lower levels of LDL (aka "bad" cholesterol). The recipe is also loaded with 10 grams of filling fiber per serving, which can help normalize digestion and aid weight management. 4 / 8
Tropical 'nice' cream
Few things sound sweeter than a heaping bowl of ice cream loaded with your favorite toppings. But if you're trying to slim down or make healthier diet choices, a nightly dish of this refreshing treat won't do you any favors. It's healthy to enjoy a frozen treat every now and again though. And when you do, consider reaching for a more wholesome choice, like this homemade "nice" cream.
The concept is simple: Slice and freeze a few bananas and blend with other flavorful (and healthy) ingredients. This frozen recipe combines the tropical flavors of mango, pineapple, and coconut. To make one serving, load your blender with half a frozen banana and a half cup each of frozen mango and pineapple chunks. Use coconut water or another nondairy liquid to bring the mixture together, but add it slowly. You shouldn't need more than a quarter cup to create a thick and creamy treat.
Scoop your mixture into your favorite dessert bowl and sprinkle on a tablespoon of unsweetened coconut flakes. The whole dessert contains 190 calories, plus loads of vitamins A and C and fiber. 5 / 8
Garlic and red pepper hummus
Hummus makes a great accompaniment to sliced veggies and sandwiches. It can even double as a salad dressing. Sure, there are plenty of store-bought options, but the spread is simple to whip up at home, without any unnecessary additives.
To your blender, add a cup of cooked chickpeas, one minced garlic clove, a half cup of chopped roasted red peppers, the juice of one lemon, two tablespoons of olive oil, and your seasoning of choice, like salt, pepper, or crushed red pepper flakes. You can boil your own chickpeas or reach for a can of the pre-cooked beans—just give them a good rinse to wash away excess sodium.
You can roast your own peppers, too: Slice a red pepper lengthwise and remove the seeds. Place it on a lined baking sheet, cut side down, and bake for 25 minutes at 450 degrees Fahrenheit. Carefully move your charred peppers to a bowl and cover with foil for 30 minutes; the skins should fall right off.
An eighth of the batch—about two tablespoons—contains 67 calories and a touch of immune-boosting vitamin C and fiber. 6 / 8
Coconut cashew balls
Struck by a midafternoon desire to munch on something sweet? Skip the vending machine or the coffee shop and bite into these homemade and healthy treats. The ingredients are wholesome and simple—dates, cashews, coconut oil, vanilla extract, and unsweetened, shredded coconut—and your blender does most of the work.
Combine a cup of cashew nuts, the same serving of pitted Medjool dates, a tablespoon of melted coconut oil, a teaspoon of vanilla extract, and a quarter cup of coconut flakes in your blender. When the mixture comes together, spoon out a tablespoon of the dough, roll into a ball, and dredge in extra shredded coconut.
The recipe should make about 12 balls, each of which contains 143 serious filling calories. 7 / 8
Mixed nut butter
Sure, nut butters are easy enough to pick up at the market, but they're often expensive and many contain unnecessary sodium and other additives. Instead, stock up on your favorite nuts and make your own. Buying nuts in bulk, online or at a wholesale retailer, can help you save some cash. And it's hard to beat the flavor of freshly made peanut, almond, or cashew butter.
Choose whichever nut you find tastiest or toss a handful into your blender. It's that simple. For more taste and texture, try adding chia and hemp seeds, a dash of vanilla extract, or a pinch of salt. The calories in your nut butter will vary depending on your nut choice and mix-ins, but plain homemade peanut butter contains about 165 calories per two tablespoon serving.
Nuts are also loaded with healthy, unsaturated fats, which help lower unhealthy cholesterol levels and reduce stroke and heart attack risks. 8 / 8
Frozen watermelon mocktail
Frozen cocktails are enticing, especially on warm days, but many contain more calories and added sugar than you might think. The typical frozen margarita, served in a 12-ounce glass, clocks in at around 300 calories and 23 grams of sugar. This mocktail recipe, which is equally as refreshing, contains just 50 calories and only natural sugars.
To your blender, add a cup of fresh (or frozen) watermelon chunks, half a cup of seltzer water, and the juice of half a lime. Pulse until combined.
Watermelon is seriously hydrating and loaded with vitamins A and C, which are essential to the health and vitality of your whole body.
Finish your glass with a straw, a few lime wedges, or a sprig of fresh mint and start sipping. Replay Slideshow