Allergic to Nuts? Try These Dietitian-Approved Meals
Simple and delicious options for nut-free breakfasts, lunches, dinners and snacks.
Medically reviewed in June 2022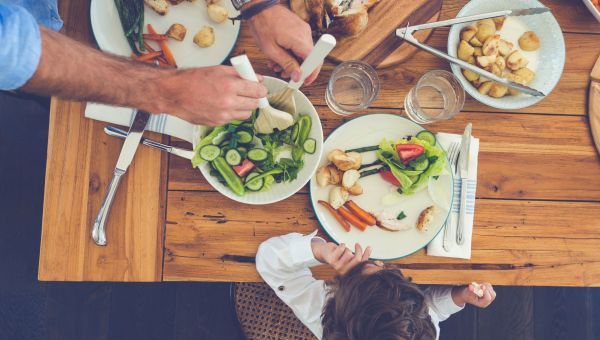 1 / 8
Anyone with a nut allergy or who has a family member with one knows that navigating the world of nut-free foods can be a challenging one. Whether your little one is among the 1.5 to 3 percent of children allergic to peanuts or attends a school or daycare that's nut-free, you'll have to spend a lot more time reading nutrition labels.
You may also need to avoid tree nuts—people with peanut allergies are 25 to 40 percent more likely to be allergic to them. Many manufacturing facilities may have cross-contamination between peanuts and tree nuts as well. If you or your child has a peanut allergy, discuss with your doctor whether they need to avoid tree nuts as well.
Although this practice is time-consuming, it's extremely important to be vigilant if your child has an allergy to peanuts or tree nuts. Accidental ingestion of peanuts and tree nuts can cause anaphylaxis, a life-threatening reaction that could send those affected to the emergency room or even cause death.
Rest assured that there are plenty of nut-free options for you or your child. Aja Stokes, a registered dietitian at Fairview Park Hospital, in Dublin, GA, suggests delicious ways to avoid nuts while enjoying your meals and snacks. 2 / 8
How to Read Food Labels
You've probably read labels to learn about sugars, fat, carbohydrates and protein in your foods, but looking for nuts and tree nuts is an important skill too.
Thanks to the Food Allergen Labeling and Consumer Protection Act (FALCPA) of 2004, the process is a bit easier. Manufacturers are required to call out the eight most common allergens: milk, egg, peanut, tree nuts, soy, wheat, fish and crustacean shellfish.
FALCPA-regulated allergens can be mentioned in one of three ways:
The allergen's name will be in the ingredient list. With tree nuts, the specific nut must be listed.
A phrase with the word "contains" followed by the name of the major food allergen—for example, "Contains nuts, tree nuts."
In the ingredient list in parentheses, when the ingredient name may not be recognizable as the allergen, such as albumin (egg).
Continue reading the food label since language like "may contain," "processed in facility that also processes" or "made on equipment with" are warnings you'll often find after the ingredient list. The term "peanut-free" is not regulated, so it is important to still read the label if you encounter a product using that terminology.
Reread a product's label every time you buy it. Manufacturers change ingredients lists often and what was once a "safe" food may now contain peanuts or be manufactured in a facility with other nuts.
It may sound strange, but check non-food items, as well, since they aren't subject to labeling regulations. Allergens may be found in cosmetics, bath products, cleaning supplies, sunscreens, art supplies, kitchen products and gardening supplies.
Always look up ingredients that you're not sure about and call the manufacturer with any questions about a food's potential cross-contamination or ingredient list. 3 / 8
Nut-Free Foods To Start The Day
Fruit is always a great option for kids' breakfasts, says Stokes. "Fresh or frozen fruits are good go-to's for a morning meal."
Yogurt is another nut-free breakfast item that kids may enjoy. Add your child's favorite fruit to plain Greek yogurt, as long as it's labeled nut-free. Portable yogurt tubes are also a great on-the-go choice, provided it is clearly stated that the brand is nut-free.
You could also give your child certain cereals, Stokes says, but be vigilant about checking the ingredient list and where it is manufactured each time you buy a product. Even if the packaging looks the same, recheck the ingredients list in case something changed.
A simple solution that some children like is cheese and toast in the morning, Stokes says. Even sticking to homemade egg breakfasts is an easy way to avoid any possible nut allergens. 4 / 8
Simple Snack Time Treats
Whether you're sending the kiddos off to school or trying to maintain a nut-free home, there are plenty of options your family will love to eat.
Some great nut-free snack choices include cheese sticks, fresh fruit, air-popped popcorn, homemade guacamole with veggie sticks and applesauce cups.
Read labels to determine whether the crunchy snacks your kids eat are made with peanut oil. "Some pretzels are manufactured in facilities that produce baked goods," notes Stokes. "Those may have cross-contamination."
You'll also have to look closely at granola or granola bars. While there are a few good nut-free options available, many major brands come with allergen warnings for traces of peanuts and tree nuts. For that reason, some schools and daycares warn parents to opt for a different treat. 5 / 8
Brown Bag Lunches Without Nuts
Remember, a nut-free world isn't as simple as avoiding peanut butter. Peanuts and tree nuts can be ground up and found in sauces, condiments and candies. And, as noted above, many processed foods are made in facilities where tree nuts are present.
Some delicious nut-free lunches for families include turkey and cheese on a nut-free bread, cottage cheese and fruit, hard-boiled eggs, lunchmeat wrapped around cheese and veggies and pizza made with nut-free dough. As with any food, always check products with multiple ingredients to be sure they are nut-free. 6 / 8
Hearty Home-Cooked Dinners
If you're looking to get dinner on the table faster, families with food allergies might be better off making meals ahead of time, packing them up and freezing them. Think homemade meatloaf, mac and cheese, soups and nut-free stir-fries that you can quickly defrost and serve at supper.
Breaded frozen products, even vegetables, may contain nuts or have cross contamination, says Stokes. "Be mindful of them and read the label," she cautions.
Be wary of some pre-made meals as well. Many cuisines, including African, Chinese, Indian, Indonesian, Thai, Vietnamese and Mexican, use nuts in dishes or sauces. Even peanut-free dishes have a high potential for cross-contamination. 7 / 8
A Warning About Baked Goods
"I would be leery of cakes and baked goods," says Stokes. "Read the label before buying these because there's an opportunity for cross-contamination [during manufacturing]," she says.
Instead try fresh fruit as a great dessert for kids. You could freeze grapes for a frozen treat, make fruit smoothies or try homemade fruit ice pops.
Flavored applesauce is a great snack to satisfy a kid's sweet tooth. Make sure the brand says it's nut-free. You can also easily make applesauce at home, adding your own spices and additions. 8 / 8
Tips to Stay Nut-Free At Restaurant
When dining out, it can be challenging to know whether a food contains peanuts or tree nuts. Alert your server or a restaurant manager that a member of your party has a nut allergy. Ask how a meal is prepared and if it is possible to avoid cross-contamination.
There are also many unexpected places where nuts can be hiding at restaurants. "Gravy is a food that comes to mind as something a lot of people wouldn't think contains peanuts, but it can. Sometimes sauces have a possibility of peanut cross-contamination," says Stokes, which can include tomato sauce, marinades, barbecue sauce or creamy soup bases.
"Sometimes breading is made with seeds or nuts, so be mindful of anything you're ordering that's breaded," says Stokes. Fried foods may be more likely to have cross-contamination or be fried in peanut oil. "Plain menu items that don't have breading are your safest route to go," she says.
Even the local ice cream parlor may not be safe. These locations, along with bakeries, are considered high risk for those with tree nut allergies.
If your family member is diagnosed with a nut allergy and you're not sure what products and foods are safe, chat with a pediatrician or a registered dietitian. They will be able to provide you with the best options to keep your family safe, healthy and well fed. Replay Slideshow