7 Dairy-Free Foods This Dietitian Swears By
Milk, cheese, yogurt, and other delicious (and healthy) dairy-free options to try.
Medically reviewed in July 2020
Updated on May 6, 2022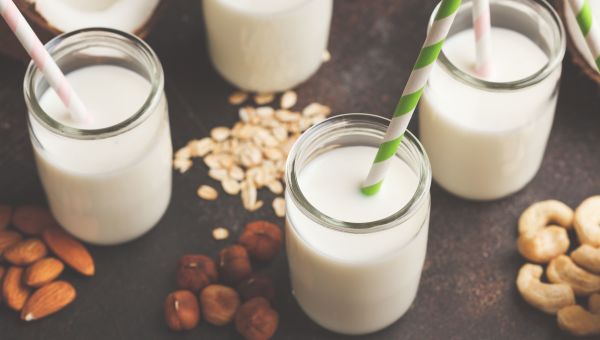 1 / 9
Food allergies are a growing concern, currently affecting about 8 percent of children and 11 percent of adults in the United States. Milk is one of the nine most common allergens; peanuts, tree nuts, eggs, wheat, soy, fish, shellfish, and sesame also make the list.
Not all dairy allergies are the same; cow milk allergies—often found in younger children—cause an immune reaction that can result in hives, vomiting, trouble breathing, and wheezing. Allergies differ from lactose intolerance, which involves the digestive system. Some people can't fully digest lactose, the sugar found in milk, which can result in gas, bloating, abdominal pain, and diarrhea.
If you or a family member were recently diagnosed with a dairy allergy or intolerance, there are plenty of milk-free meals and snacks your whole household can enjoy. To round up some of the best, and help you avoid sneaky sources of dairy, we enlisted the help of Lauri Watson, a registered dietitian with Summerville Medical Center in Summerville, South Carolina.
To get you started on your milk-free grocery haul, Watson says, "Nuts, fruits, and veggies are going to be naturally dairy free." Some treats, like angel food cake, are typically dairy-free, according to Watson. As with any prepackaged food, it's always best to check the label to be sure. Dairy-free treats that are high in calories and sugar should be reserved for birthdays or other special occasions. 2 / 9
Sneaky sources of dairy
Milk and milk byproducts can be hidden in foods you might least expect, like oil-based salad dressings and jarred or canned tomato sauces, so checking labels is important.
Milk is one of the eight major allergens required by federal law to be listed on a product's packaging, according to Watson. But it doesn't hurt to give the ingredient list a scan for items like casein, whey, curd, cream, and butter.
Watson reveals a number of sneaky dairy sources, but it's best to check all your products before digging in.
Creamy dips and dressings like ranch and bleu cheese
Vinaigrettes that contain grated cheese
Some flavored potato chips
Frozen fish sticks
Granola and breakfast bars
She also recommends asking questions at restaurants and deli counters, where meat may be sliced on the same machines as cheese, causing cross contamination. "Be careful with steak and other meats in restaurants, which often come topped with butter that may not be listed on the menu," she says.
Ingredients in store-bought products can change without warning, so it's important to check the label before each purchase. If you're unsure about a food's ingredients, don't hesitate to contact the manufacturer. 3 / 9
Soy, almond and coconut milk
One simple way to avoid dairy is to purchase plant-based milks and products, like soy milk, oat milk, or almond milk-based yogurt and cheese. These seamlessly replace some of your favorite milk-containing foods and can be swapped into most recipes.
With a variety of products on the market—oat, soy, hemp, rice, almond, coconut, and cashew—it can be tough to choose the "right" one. Each carton comes equipped with its own benefits (and drawbacks), so Watson recommends sampling several to find something you and your family enjoy. You should also consider reaching for a minimally processed option with few (if any) additives.
If your household is looking for a boost of protein, try unsweetened soy, oat or hemp milk. If it's calories you're looking to cut, give unsweetened almond or cashew milk a try.
Whichever milk you choose, be sure to look at the sugar content. "Flavored milk, like strawberry or chocolate, often contain added sugars," Watson says. Instead, choose an unsweetened variety, she advises. 4 / 9
Coconut milk yogurt and fruit kabobs
Whether you're allergic to milk products or not, fruit should be a staple of your diet. In addition to being naturally dairy-free, it's also loaded with vitamins and minerals and many varieties are low in calories. Need another reason to eat fruit? Government recommendations encourage you to enjoy some daily. Children 2 to 13 should consume between 1 and 1 1/2 cups, and boys between 14 and 18 should increase their serving to about 2 cups. Adults should aim to eat between 1 1/2 and 2 daily cups.
To whip together a dairy-free and guilt-free snack, dice your favorite fruits, like melon, kiwi, strawberries, and pineapple, and thread the bite-sized pieces onto a metal or wooden skewer.
Now your fruits are ready to dip! Stir together 1 cup of plain yogurt—made from coconut or other nondairy milk—the juice from half a lemon, and a drizzle of honey, about 1 tablespoon. Per 2-tablespoon serving, this dip contains 30 calories.
Coconut and coconut-based products are typically high in saturated fats; a cup of yogurt contains about 6 grams. Stick with the recommended serving size and switch up your dairy-free choices often; soy and almond milk yogurts are also available. 5 / 9
Milk-free macaroni and cheese
Food doesn't get more comforting than macaroni and cheese. But if dairy is dangerous to your body, it may feel like a real bummer to turn down a serving. All hope is not lost. This hearty pasta dish combines the flavor you know and love with dairy-free alternatives, and even a boost of added nutrients:
In a large pot, sauté a medium diced white onion and three cloves of garlic in 2 tablespoons of olive oil. Once fragrant, add 2 cups each diced butternut squash and cauliflower florets with 1 1/2 to 2 cups low-sodium broth of choice and bring to a boil. With your ingredients simmering, cover your pot and cook until the veggies are tender.
Transfer your mixture to a blender, adding a small dollop of Dijon mustard, about 3 tablespoons of nutritional yeast—which gives the dish its cheesy flavor—and a dash of salt and pepper before pureeing. Stir your "cheese" sauce into a pound of cooked and drained whole wheat pasta and serve with an extra sprinkle of nutritional yeast.
The recipe makes 8 servings, each with 256 calories. This dish also delivers vitamins A and C, which promote healthy bones and eyes and help the body heal wounds.
Adding dairy-free shredded cheese is also an option, but shop around for a product with simple ingredients and as few additives as possible. Some brands also contain more saturated fat and sodium than you might think, so don't overlook the nutrition label. 6 / 9
Fruit strips
Many sweet treats, like candy bars, cakes, and cookies contain milk or milk products. Watson's recommended alternative: Pureed fruit bars or fruit leathers.
Fruit bars and leathers are simple treats—your favorite fruit pureed, spread thin, and dried into a chewy, candy-like snack. Sure you can snag one on your next trip to the grocery store, but check the ingredients for taking a bite. Although dairy may not be lurking beneath the sleek packaging, added sugars might be. Choose one that's made from whole fruits, and nothing else, or whip one up at home.
Blend 3 cups of your favorite fruit with a tablespoon or two of lemon or lime juice and two pitted dates (for added sweetness). Spread your mixture onto a baking sheet lined with parchment paper or a Silpat sheet and bake at 150 degrees Fahrenheit for 6 to 8 hours. Allow to cook and cut into about 10 strips.
Calorie counts will vary based upon your fruit of choice. Some sweet options include:
Strawberries - 29 calories per strip
Peaches - 31 calories per strip
Blackberries - 33 calories per strip
Raspberries - 35 calories per strip
Pineapple - 39 calories per strip 7 / 9
Dips and sandwich spreads
Mayonnaise is a staple in many households, often used as a spread on sandwiches, mixed with a can of tuna, or stirred into a creamy dip. Although it doesn't contain dairy, mayo adds 90 calories per tablespoon and a whopping 10 grams of fat. Luckily, there are other options.
Hummus, a blend of chickpeas and other wholesome ingredients, contains just 25 calories and 1.4 grams of fat per tablespoon. The same size serving also offers a bit of dietary fiber and protein. Healthy options are available in most grocery stores, but take a peek at the ingredients to ensure you're not choosing one with unnecessary additives.
Mashed avocado also makes a great dip for sliced veggies, a creamy sandwich spread, or a healthier chicken or tuna salad mix-in. This soft, green fruit is loaded with heart-healthy fats, fiber and vitamins, but it's also calorie dense, so don't overdo it. To create a single serving of a guacamole-style dip or spread, mash a quarter of an avocado with a bit of salt and pepper, 1 tablespoon of diced tomato, 1 teaspoon of diced onion and a squeeze of lime juice. For a kick, sprinkle in crushed red pepper flakes. The mix contains fewer than 85 calories. 8 / 9
Dairy-free ice cream
Ice cream may be one of the most devastating dairy products to miss out on, but now you don't have to. Supermarket freezers are loaded with pints of non-dairy options, made from almond, coconut, and cashew milks and swirled with the same blend-ins you've always loved, like caramel, nuts and now, dairy-free chocolate.
Unfortunately, these ice cream alternatives are still anything but health foods. Many contain 200 calories or more per half-cup serving, not to mention loads of saturated fat. In a pinch—and on occasion—these store-bought treats do the trick, but creating dairy-free and healthy ice cream at home is simple.
Dice and freeze a large banana in a zipper bag or airtight container and blend with your favorite flavors, like cocoa, chopped nuts, or other fruits. The base of the "nice" cream—a large blended frozen banana—contains 120 calories. A half cup of frozen blueberries adds just 42 calories; 1 tablespoon of cocoa powder, just 10 calories; and 20 pistachios contain an additional 65 calories. To slash some calories, give your pistachios a good chop—you'll use fewer nuts and still get a bit of crunch in every bite. 9 / 9
Homemade party mix
Pre-made snack mixes are great grab-and-go nibbling options, but some contain unhealthy additives and dairy, especially the bags with candy-coated chocolate morsels. By making your own, you can customize the mix to your dietary needs, and probably save some money in the process. Begin with about 3 cups of plain toasted rice cereal and mix in your sweet or salty ingredients.
A sweet mix:
1 cup of whole unsalted almonds
1 cup unsweetened coconut flakes
1 cup mini pretzels
Cinnamon to taste
This batch makes 12 servings, each with 140 calories.
A salty snack:
1 cup mini pretzels
2 cups air-popped popcorn
1 cup of dry-roasted unsalted peanuts
Garlic powder and cayenne pepper to taste
This batch makes 14 servings, each with 97 calories.
Unsweetened dried fruit and dairy-free dark chocolate chips also make great additions. When mixing up a snack like this, keep track of the calories in your add-ins and mind your portion sizes—it can be easy to overdo it. Pro tip: Measure your mixture into individual baggies for easy snacking anywhere. Replay Slideshow
Slideshow sources
FARE. Facts and Statistics. 2022. Accessed May 6, 2022.
Centers for Disease Control and Prevention. CDC Healthy Schools: Food Allergies. February 24, 2022. Accessed May 6, 2022.
FARE. Sesame Allergy. 2022. Accessed May 6, 2022.
NIH: National Institute of Allergy and Infectious Diseases. Food Allergy. October 29, 2018. Accessed May 6, 2022.
University of Nebraska—Lincoln. Allergenic Foods and their Allergens, with links to Informall: The Big 8. 2022. Accessed May 6, 2022.
Nemours Teens Health. Milk Allergy. January 2021. Accessed May 6, 2022.
NIH National Institute of Diabetes and Digestive and Kidney Diseases. Symptoms & Causes of Lactose Intolerance. February 2018. Accessed May 6, 2022.
U.S. Department of Agriculture. MyPlate: Fruits. 2020. Accessed May 6, 2022.
NIH Office of Dietary Supplements. Vitamin C. March 22, 2021. Accessed May 6, 2022.