Why Are Americans Getting Sicker Younger?
Get the facts on six startling health trends.
Medically reviewed in April 2020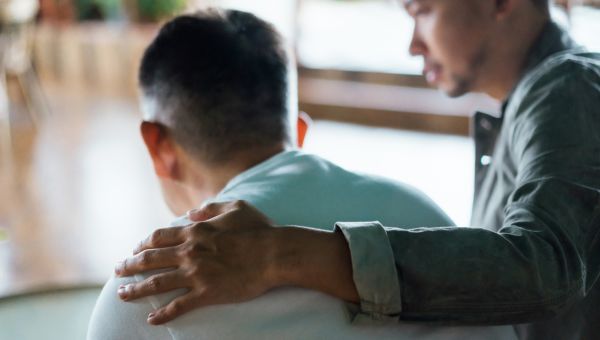 1 / 7
In 2018, life expectancy was 78.7 years in the United States, a 0.1 year increase from 2017, according to the Centers for Disease Control and Prevention (CDC). For American women, it was 81.2 years, while it was 76.2 years for American men. Death rates remained the same for the top ten causes of death, including Alzheimer's disease and diabetes.
Despite the small rise from the previous year, life expectancy was down from its peak of 78.9 years in 2014. You might have noticed some troubling headlines suggesting why—news about young Americans dying from conditions they shouldn't even be at risk for.
What's making young Americans sick? Could you be at risk? Here are six surprising trends everyone should know about. 2 / 7
SUICIDE RATES HAVE RISEN
The U.S. suicide rate increased 35 percent between 1999 and 2018, according to the CDC. By 2018, suicide accounted for 22.8 deaths per 100,000 men and 6.2 deaths per 100,000 women.
While the rate rose for every age group under 75, it increased 95 percent for women and girls between 15 and 24 and 35 percent for boys and men aged 15 to 24.
For the time being, researchers can only make educated guesses about the reasons for these trends. For younger people, lack of access to mental health resources, the opioid crisis, and financial hardship and uncertainty may play significant roles.
Everyone should know the risk factors for suicide. If you or someone you know is contemplating suicide, call 911 or the National Suicide Prevention Lifeline at 1-800-273-8255. 3 / 7
OPIOIDS HAVE KILLED MORE YOUNG PEOPLE THAN THE VIETNAM WAR
The incidence of illegal drug overdose has risen sharply over the years, says Roy Habib, MD, FACP, an internal medicine doctor from LewisGale Medical Center in Salem, Virginia. The CDC attributed 67,367 deaths to overdoses in 2018. They were the number one killer of Americans between the ages of 25 and 44.
About 70 percent of overdose deaths in 2018 involved opioids, a class of drugs that includes heroin and painkillers such as fentanyl and oxycodone. Opioids are typically prescribed for pain relief, but over-prescription and misuse can lead to addiction. 4 / 7
COLORECTAL CANCER DOESN'T ALWAYS WAIT UNTIL YOUR 50S
Colon cancer rates have been falling since the mid-1980s, with a couple of alarming exceptions: Cases among twenty-and thirtysomethings have risen about one to two percent each year. Cases have also gone up among people aged 40 to 55.
Getting older is a risk factor for developing colon cancer, and the average person's chances increase starting around age 50. In fact, the U.S. Preventive Services Task Force screening guidelines don't recommend getting your first colonoscopy until 50 unless you're at high risk—meaning you have a strong family history, for example, or you are African American. The American Cancer Society recommends someone of average risk should begin regular screening at age 45.
Experts aren't exactly sure why colon cancer is on the rise among young and middle-aged adults, but many cancers can be traced to certain lifestyle factors, explains Dr. Habib.
"A diet high in protein and low in fiber can lead to gastrointestinal diseases such as colon cancer," he says. Quitting smoking, eating less red meat and exercising regularly are proven ways to lower your risk. 5 / 7
ARTHRITIS ISN'T JUST FOR OLDER PEOPLE
Osteoarthritis, the most common type of arthritis, is normally considered a disease of aging. Your risk of developing it increases as you get older. In fact, between 2013 and 2015, about half of seniors reported having doctor-diagnosed arthritis, according to the CDC.
So, what's with the news stories about younger people developing this condition? First of all, other factors like being female, having previous injuries and even the type of job you have can affect osteoarthritis risk. It's not all about age.
Arthritis can also be related to being overweight and lacking exercise, says Habib. "Spending hours on the Internet or watching TV while sitting or lying in bed often leads to obesity and may subsequently cause spine disorders, back pain and joint disorders," he explains. "These habits can also lead to depression and isolation."
At the other end of the spectrum, while high-intensity training can be an effective form of exercise, some people jump into group classes without undergoing the proper conditioning first. That, combined with explosive movements and a lack of one-on-one attention from instructors, may wear on joints. Anything that leads to joint injuries can lead to osteoarthritis, as well, so it's a good idea to mix up your physical activity to include low-impact exercise, stretching and rest to increase mobility and resistance to injury. 6 / 7
TEENS AND YOUNG ADULTS ARE HAVING A HARD TIME HEARING
Research suggests that up to one in five teens has some degree of hearing loss, and a 2017 CDC report found that one in five adults aged 20 to 29 has also lost some ability to hear. The World Health Organization (WHO) also estimates that around 1.1 billion young adults are at risk for hearing loss due to unsafe sound exposure.
Just half an hour of using headphones at top volume can permanently damage cochlea, the tiny hair cells on your inner ear which transmit sound signals to your brain. The more hairs that get damaged, the worse your hearing will become—and they won't heal over time.
Protect your ears by:
Investing in sound-cancelling headphones and making sure ear buds fit properly. That can help keep outside noises from interfering with listening, so you won't have to turn up the sound.
Making sure you can still carry on a regular conversation while wearing headphones.
Downloading an app to put a cap on your phone's volume control.
If you can hear your teen's headphones from more than 3 feet away, ask them to turn down the sound. 7 / 7
YOUR HEART ATTACK RISK MAY BE HIGHER THAN YOU THINK
The modern lifestyle is a setup for heart disease in a number of ways—and it won't necessarily hit you decades from now. Both heart disease and sudden cardiac death from causes like heart attacks affect people of all ages. In fact, more than 35,000 women under 55 experience heart attacks annually, according to the Women's Heart Foundation.
Young Americans have access to convenience foods rich in fat and simple carbohydrates, says Habib. "Most don't have to walk or bike to school, or farm or hunt to find food," he adds.
That, along with excessive sitting for work and school, is just part of the reason why people have heart attacks at surprisingly young ages. Other contributing factors include high stress levels, social isolation and the widespread use of tobacco, alcohol and recreational drugs.
Sources:
Centers for Disease Control and Prevention. "Mortality in the United States, 2018." NCHS Data Brief No. 355, January 2020.
Centers for Disease Control and Prevention. "Changes in Life Expectancy at Birth, 2010–2018." January 30, 2020. Accessed September 22, 2020.
Centers for Disease Control and Prevention. "Increase in Suicide Mortality in the United States, 1999–2018." NCHS Data Brief No. 362, April 2020.
National Care Hospital Survey, National Vital Statistics System, Mortality (NVSS-M). "NHCS Data Brief 362." April 2020.
Deborah Stone MPH, MSW, ScD. "Epidemiology of Youth Suicide and a Public Health Approach to Intervention." Journal of the American Academy of Child & Adolescent Psychiatry. 2019-10-01, Volume 58, Issue 10, Pages S320-S320, Copyright 2019.
L Fiksenbaum, Z Marjanovic, et al. "Impact of Economic Hardship and Financial Threat on Suicide Ideation and Confusion." The Journal of Psychology. 2017. 151:5, 477-495.
Centers for Disease Control and Prevention. "Drug Overdose Deaths in the United States, 1999–2018." NCHS Data Brief No. 356, January 2020.
Stacey Simon. "Colorectal Cancer Rates Rise in Younger Adults." American Cancer Society. March 5, 2020.
American Cancer Society. "Colorectal Cancer Facts and Figures: 2020-2022." 2020. Accessed September 22, 2020.
American Cancer Society. "American Cancer Society Guideline for Colorectal Cancer Screening." 2020. Accessed September 22, 2020.
Centers for Disease Control and Prevention. "Colorectal Cancer: What Should I Know About Screening?" Reviewed February 10, 2020. Accessed September 22, 2020.
Stacy Simon. "Six Ways to Lower Your Risk for Colorectal Cancer." American Cancer Society. February 10, 2020.
Centers for Disease Control and Prevention. "Osteoarthritis." July 27, 2020. Accessed September 4, 2020.
Centers for Disease Control and Prevention. "Arthritis-Related Statistics." Reviewed July 18, 2018. Accessed September 22, 2020.
UpToDate.com. "Epidemiology and risk factors for osteoarthritis." Updated February 12, 2019.
AO Amoako and GGA Pujalte. "Osteoarthritis in young, active, and athletic individuals." Clinical Medicine Insights - Arthritis and Musculoskeletal Disorders. Vol. 7 27-32. May 22, 2014.
Midwest Orthopaedics at Rush. "High-intensity Activities and Increased Risk of Hip Osteoarthritis." 2020. Accessed September 4, 2020.
Brian Giordano & Ben Weisenthal. "Common Injuries and Conditions in Crossfit Participation." Endurance Sports Medicine. pp 147-158. First Online: 13 August 2016.
University of Rochester Medical Center. "Preventing Sports Injuries." 2020. Accessed September 22, 2020.
American Council on Science and Health. "Heart Attacks Can Strike Young Adults, So Know The Signs." February 28, 2016. Accessed September 4, 2020.
Women's Heart Foundation. "Women and Heart Disease Facts." 2020. Accessed September 14, 2020.
UpToDate.com. "Epidemiology of Coronary Heart Disease." 2016.
Society for Cardiovascular Angiography and Interventions. "Who Is Affected by Cardiovascular Disease?" November 4, 2014. Accessed September 4, 2020.
Tara Parker-Pope. "Hearing Loss in Teens." The New York times. August 23, 2010.
Advent Health Orlando. "Generation Deaf: Millennials and Earbud-Induced Hearing Loss." June 8, 2016.
J Shargorodsky, SG Curhan SG, et al. "Change in Prevalence of Hearing Loss in US Adolescents." JAMA. 2010;304(7):772–778.
TS Barrett & KR White. "Trends in Hearing Loss Among Adolescents." Pediatrics. December 2017, 140 (6) e20170619.
Hearing Loss Association of America. "Hearing Loss Facts and Statistics." 2018. Accessed September 22, 2020.
Katherine Bouton. "Young and Deaf: Lessons for All Ages." AARP. July 20, 2016.
Centers for Disease Control and Prevention. "New Vital Signs study finds noise-related hearing loss not limited to work exposure." February 7, 2017. Replay Slideshow