Thrush is a yeast infection of the tongue and mouth, which is common in infants. It can have a cottage cheese type of appearance, looking white and sometimes may show a lacy pattern. It only really needs treatment if it is affecting the baby's ability to feed.
Thrush is a yeast infection in the mouth or esophagus. It's caused by overgrowth of a fungus, called Candida. People with weak immune systems, such as those with HIV or diabetes, have a higher risk of getting thrush. Symptoms include white patches in the mouth and on the tongue, easy bleeding, and pain and soreness in the mouth or when swallowing. If thrush is mild, eating yogurt or taking non-prescription acidophilus pills may be enough to kill the yeast. People with more severe cases are usually treated with antifungal mouthwashes, lozenges or medications.
Continue Learning about Yeast Infections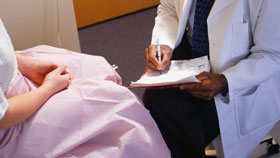 Vaginal yeast infection is the most common yeast infection. Men can get yeast infections too, and people with diabetes or compromised immune systems may also get yeast infections. Some are not genital infections, but can affect th...
e mouth or other parts of the body. Treatment is either a topical application or an oral medication. Learn more about yeast infections from our experts.
More