There are various reasons:
Television, billboards, fashion magazines, and even medical information often encourage us to internalize weight-based stereotypes.
Modeling agencies consider size 10 to be "plus size," though the average American woman wears a size 12.
We often hear advertisements enticing us to be good (eat salad) or be bad (eat cake), as if our worth as individuals can be measured by the foods we choose.
Even medical and insurance charts listing heights and weights do not take into consideration the natural variations in body size. As a result, food often elicits feelings of guilt, indulgence, and fear.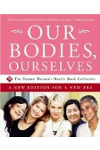 Continue Learning about Women's Health

Did you know that women are more likely to seek medical care than men? Sexual health needs, like pregnancy and contraception, often necessitate early visits to a doctor. But as we age, various health issues affect women more than ...
men, including depression, weight problems, and certain types of arthritis.In order to maintain your health and wellness, make sure you get an annual checkup.
More