Lichen sclerosus makes the vulvar skin appear white: not just pale, as in atrophy, but a dull white color. The skin may be very thin, with an appearance similar to parchment or cigarette paper. The condition sometimes occurs in separate patches, but can also be seen affecting the whole vulva, with the white area in a shape resembling a keyhole: wide at the top, around the clitoris, and narrow around the vagina and peri-anal area. If there has been chronic itching and scratching, the skin may appear thickened or scabbed, or it may become infected.
Without treatment, the labia minora (inner lips) may shrink until they disappear, and the vaginal opening may become narrowed and nearly rigid. The clitoris can become buried under the fused clitoral hood. When the skin breaks or fissures form and the vagina become narrowed, women often experience pain and have difficulty with sex.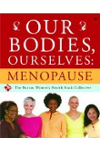 More About this Book
Our Bodies, Ourselves: Menopause
FROM THE EDITORS OF THE CLASSIC "BIBLE OF WOMEN'S HEALTH," A TRUSTWORTHY, UP-TO-DATE GUIDE TO HELP EVERY WOMAN NAVIGATE THE MENOPAUSE TRANSITION For decades, millions of women have relied on Our...
Continue Learning about Women's Health