Detoxification is the metabolic process by which toxins are changed into less toxic or more easily excretable substances. It's the method by which the body gets rid of the gunk and the sludge and the waste materials that, if left alone, would slow us down, tire us out, and do us harm.

The purpose of detoxification is to cleanse the body of internal impurities, which if left to thrive could cause deterioration and disease. Taking steps to thoroughly detox the body will restore your physical and emotional energy, increase your mental stamina, improve your digestive processes, aid with weight loss, and help you feel and look much healthier.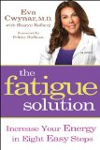 While the word detoxification may conjure images of drugged out celebrities in rehab for substance abuse, from a scientific perspective it actually refers primarily to the body's natural methods of self-cleansing -- of ridding waste that are the by-products of its normal function, and dealing with potentially harmful invaders such as bacteria, viruses, or toxic chemicals. Detoxification is a constant bodily process. We are continually eliminating excess toxins through our digestive, urinary, skin, circulatory, respiratory, and lymphatic systems and processes.
Mom Energy: A Simple Plan to Live Fully Charged
The most intensive level of addiction care is detoxification, which is usually in an inpatient setting, medically monitored, and can last typically 3 to 5 days. Outpatient detoxification is available, but generally has very specific narrow criteria. This is a physical rehabilitation and must only be the first step with more help needed to ensure long-term sobriety.
Continue Learning about Wellness