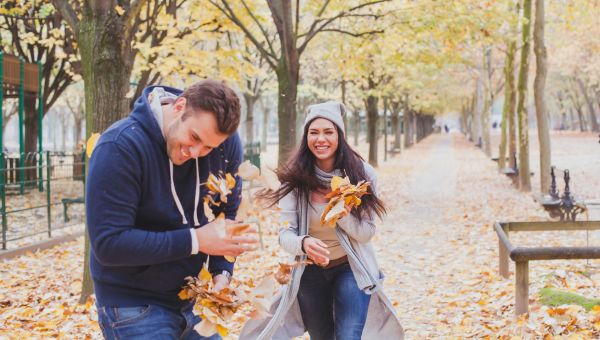 Enjoy the season with outdoor exercises, seasonal snacks and tips to avoid holiday pitfalls.
1 / 8
By Carey Purcell
As the autumn breeze rolls in, it's the perfect time to adopt some good-for-you habits, even if you already have a healthy lifestyle. The season brings new opportunities, like the perfect weather for outdoor workouts and a plethora of seasonal produce. But it's not without challenges: Fall is also cold and flu season.
To help you enjoy your healthiest fall yet, we gathered some tips from Candice Seti, a psychologist and certified nutrition coach from San Diego, California.
Step one: Pull on a sweatshirt and go apple picking! 2 / 8

Get outside to exercise

As the seasons change, so might our routines. When the days grow shorter, it can be tempting to spend more time indoors. Instead of heading home after work, book a spot in your favorite exercise class or arrange to meet a friend at the local park.

A brisk autumn afternoon offers the perfect temperature for a hike, bike ride or game of pickup football. Your size, age and gender determine how many calories you can burn during an activity, but a 155-pound person can torch almost 300 calories biking at a moderate pace or playing touch football for 30 minutes.

Don't let the cold keep you indoors; just pick the right clothing.

Invest in:
A comfy jacket
Thick leggings
Warm socks
Lightweight gloves
Dress in layers so you can remove clothing as your body warms up. 3 / 8

Savor the season's harvest

Fill your plate with autumn's freshest produce, packed with a variety of vitamins and fiber.

"Orange foods, like sweet potatoes, butternut squash and pumpkin, are rich in an antioxidant called beta-carotene," Dr. Seti says, which can help keep your immune system strong. She recommends incorporating these seasonal veggies into soup, stew and chili. Toss your ingredients into a slow cooker for an effortless weeknight meal.

Don't forget fruits of every color. "Apples and cranberries are also delicious and nutritious fall foods that can help support your overall physical wellness," Seti says. Fresh fruits are typically low in calories, which can help you maintain a healthy weight and stave off obesity-related disease, like hypertension, heart disease and stroke. Frozen fruit with no added sugar and canned fruit in 100 percent fruit juice are also healthy options. Wash and enjoy as an afternoon snack or bake into lightened-up seasonal desserts. 4 / 8

Plan carefully for game day

Football is a favorite fall pastime, and is often enjoyed with friends, beers and table of snacks. Game day bites, like chips, pretzels and seven-layer dip, contain hundreds of calories—not to mention sodium and fat—and can really derail your diet. It's possible to enjoy the season's celebrations and reach your health goals. Plan ahead to avoid over indulging.
Bring a water bottle with you.
Serve up a healthy snack, like a fruit or veggie tray.
Take a time out when you need one. If you find yourself losing focus and munching mindlessly, give yourself an encouraging pep talk in the bathroom to stay on track. 5 / 8

Safeguard yourself this cold and flu season

The cold weather often brings the risk of catching cold and flu viruses. You can't always prevent sickness, but there are proven ways to reduce your risk.

First, get a flu shot. The vaccine is recommended for anyone at least 6 months of age, excluding those with allergies to the shot or any of its ingredients. People with certain medical conditions, like Guillain-Barre Syndrome, and those who aren't feeling well should speak with their doctor before getting immunized.

It takes about two weeks for the shot's protective antibodies to begin working, so get vaccinated before the flu reaches your community. The Centers for Disease Control and Prevention recommend getting a flu shot before the end of October.

You can also protect yourself by:
Frequently washing your hands with soap and water for at least 20 seconds
Getting the recommended 7 to 9 hours of nightly sleep
Eating a nutritious diet rich in fruits, vegetables, whole grains, lean protein and healthy fats 6 / 8

Manage stress

Family gatherings can be overwhelming, but there are effective ways to get a handle on holiday stress and enjoy the celebrations. Stress can be normal—everyone experiences it from time-to-time—but tension that just won't quit can cause headaches and irritability. Constant anxiety and worry can make getting restful sleep more difficult and possibly up your chances of catching cold and flu germs.

Feeling overwhelmed? Try:
Meditating
Journaling
Spending time in nature
Volunteering
Reaching out to family members and friends 7 / 8

Prioritize sleep

A good night's sleep is crucial for staying healthy and happy this fall. The changing seasons trim the number of sunny hours in a day and can impact our sleep, Seti says. She reminds her patients that getting enough good quality sleep can replenish the body's resources and help you fight stress.

Get a good night's sleep by:
Making your sleeping environment as dark as possible; consider blackout curtains or an eye mask
Avoiding alcohol, caffeine and tobacco before bedtime
Keeping your bedroom at a cool temperature
Avoiding TV and other devices, like cellphones and computers, before bed
Going to bed and waking up at the same time every day
Creating a relaxing pre-bedtime routine that involves reading a book, sipping a cup of tea or meditating 8 / 8

Remember to treat yourself

Autumn isn't complete without a few seasonal treats, but remember to enjoy indulgences in moderation and make healthier choices when you can.
On Halloween, have a well-balanced dinner, and then enjoy a piece of fun-sized candy guilt-free.
The pumpkin spice latte is back, and a 16-ounce cup is loaded with 380 calories, 14 grams of fat and 50 grams of sugar. Lighten your latte by skipping the whip, asking for almond or nonfat milk and reducing the amount of syrup.
Sweet potato fries—another seasonal favorite—are packed with vitamins and minerals, but high in calories and carbohydrates. Share a side with a friend or make your own at home by slicing and seasoning a medium spud and roasting your "fries" in the oven.
If a brewery tour is on your autumn bucket list, skip the tasting and save more than 200 calories per pint of craft beer.
Stash a bar of dark chocolate in your pantry and enjoy a 150-calorie ounce when a sweet craving strikes.
Embrace the season's changes, enjoy the autumn harvest and safeguard against sickness for the healthiest and most fun fall yet.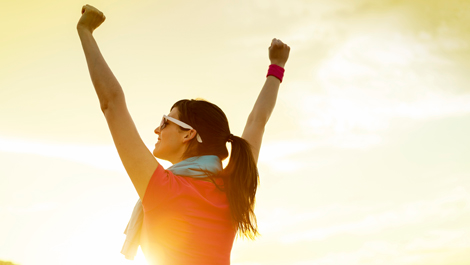 Wellness is a difficult word to define. Traditionally wellness has meant the opposite of illness and the absence of disease and disability. More recently wellness has come to describe something that you have personal control over. ...
Wellness is now a word used to describe living the best possible life you can regardless of whether you have a disease or disability. Your wellness is not only related to your physical health, but is a combination of things including spiritual wellness, social wellness, mental wellness and emotional wellness. Wellness is seen as a combination of mind, body and spirit. Different people may have different ideas about wellness. There is no single set standard for wellness and wellness is a difficult thing to quantify.
More