We innately know about cycles, flows, and balance of life. We are fluid, flowing, surrendering, tied to the cycles of nature. Just as the seasons, the moon, and the tides cycle nature, we are also part of this vast rhythm of life. And we innately know when we are out of this magnificent rhythm and imbalanced. We have detectors inside us that go off like alarms, screaming, "Red alert, red alert, out of balance." But often, to survive in our hectic lives, we have learned to turn a deaf ear to our inner alarms. Sometimes we unplug our inner alarms. Sometimes we even yank the batteries out so we can move faster and faster and faster, like a train running out of control on a track.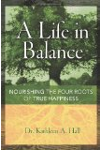 To determine if your life is out of balance, you can look at your life activities through what I call the "balance meter." If you are living one area of your life to an extreme, or spending too much time and energy in one area, then I put you in the red zone on the balance meter. An example of this is someone who is a workaholic. This person might be working fifty or sixty hours a week, or more. This person doesn't have much time for rest, family, general life responsibilities, or play time. Another example is someone spending too much time exercising and not having enough rest time. This can happen to competitive athletes who get caught up in their training, doing it to an excess. I have known athletes like this. They eat, sleep, and talk only "training." Where is the balance in their lives? Their focus is only on taking their bodies to extremes during their workouts. I know this because I have lived it. Your workouts should be enjoyable, not exhausting.

The other end of the meter is the white zone. This is where people spend too much time just doing nothing. They can spend most of the day sitting on the couch watching TV, playing video games, spending hours on the computer, or lying in bed all day. These people are living life with such passivity; life may be passing them by. Their muscles may atrophy due to lack of exercise, and their skin could become pale and dull. Some may have dark circles around their eyes. These people may also have unhealthy eating habits. They rarely see sunshine or feel fresh air. Because they lack interactions with real people, they are at risk of losing their sense of identity. Many of them might suffer from depression. People who live in these extremes are too far into the white zone. They need more balance and life engagement. This could be in the form of just getting out of the house and going for a walk to get fresh air and sunshine.

The middle of the balance meter is green. This is reserved for people who seem to have mastered a balance in their life between work, play, rest, family responsibilities, friendships, spiritual or reflection time, eating healthy, and a balanced exercise program. Living in the green is where we all should strive to be in order to create peace and harmony in our lives. When we are in balance, we tend to be happier in every area of our lives, and we are able to pass this happy feeling on to others.
Continue Learning about Wellness