If you're middle aged and want to try a new sport, you'll find clubs or classes in many sports through local groups, gyms and specialty facilities such as skating rinks, tennis centers or indoor rock-climbing facilities. While you're taking lessons in your new sport, you also should be working on building your overall flexibility, strength and endurance. You can then incorporate these new skills into the activity.
Choose a new activity that's kind to your body while giving you a good workout. Sports involving jumping, twisting or pounding can be tough on your joints. Consider gentler (but no less satisfying) choices, such as the following:
swimming
deep-water running
cross-country skiing
snowshoeing
in-line skating
cycling
rowing
karate, tai chi, soo bahk do (a Korean martial art)
Some physically tough sports can be adapted to keep the fun and exercise without the likely injury risk. Consider "Granny Basketball," a sport played by several teams of women in Iowa, all age 50 or above. Modeled on girls' basketball rules from 1929, players wear bloomers, long-sleeved shirts and high socks. There's no running (but hurrying is allowed), no jumping and no physical contact.
People with arthritis are encouraged to participate in low-impact activities, such as water aerobics, cycling, yoga or Pilates.
Continue Learning about Wellness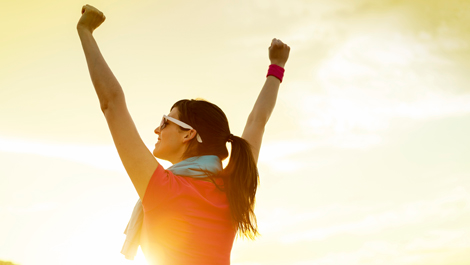 Wellness is a difficult word to define. Traditionally wellness has meant the opposite of illness and the absence of disease and disability. More recently wellness has come to describe something that you have personal control over. ...
Wellness is now a word used to describe living the best possible life you can regardless of whether you have a disease or disability. Your wellness is not only related to your physical health, but is a combination of things including spiritual wellness, social wellness, mental wellness and emotional wellness. Wellness is seen as a combination of mind, body and spirit. Different people may have different ideas about wellness. There is no single set standard for wellness and wellness is a difficult thing to quantify.
More