Body temperature variations affect certain chemicals released in the brain stem that promote a sleepy state.
The chemical adenosine makes you feel sleepy. Caffeine blocks adenosine receptors so your brain does not perceive as much adenosine, which is why it can keep you awake. Gamma-aminobutyric acid (GABA) makes you feel sleepy. Prescription sleeping pills target the GABA receptors, making it easier for the brain to perceive GABA, thereby inducing sleepiness.
People's temperature fluctuations vary, as does their sensitivity to GABA and adenosine. People who have wide body temperature fluctuations are heavy sleepers, while those who have flatter body temperature fluctuations are lighter sleepers. With aging, body temperature fluctuations flatten. Exercise is the only known way to increase the fluctuations. In addition to body temperature and brain chemicals such as GABA and adenosine, light has an effect on sleep physiology through a chemical called melatonin. Melatonin is made in the pineal gland of the brain, and it causes sleepiness. When your eyes are exposed to light, your pineal gland makes less melatonin, thus increasing your alertness. Melatonin production decreases with age; by age 60, you produce only 20 percent of your original level. This probably plays some role in why sleep is more difficult for the elderly.
Continue Learning about Wellness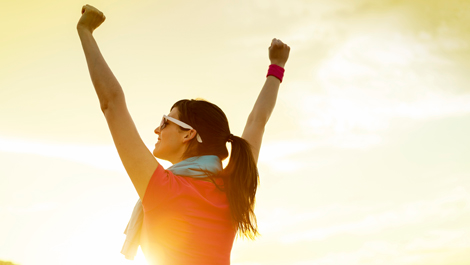 Wellness is a difficult word to define. Traditionally wellness has meant the opposite of illness and the absence of disease and disability. More recently wellness has come to describe something that you have personal control over. ...
Wellness is now a word used to describe living the best possible life you can regardless of whether you have a disease or disability. Your wellness is not only related to your physical health, but is a combination of things including spiritual wellness, social wellness, mental wellness and emotional wellness. Wellness is seen as a combination of mind, body and spirit. Different people may have different ideas about wellness. There is no single set standard for wellness and wellness is a difficult thing to quantify.
More