One reason is that the meat our ancestors consumed was much different from the meat we find in the supermarket today. Domesticated animals have always had higher fat levels than their wild counterparts, but the desire for tender meat has driven the fat content of domesticated animals to 25 to 30 percent or higher compared to a fat content of less than 4 percent for free-living animals or wild game. In addition, the type of fat is considerably different. Domestic beef contains primarily saturated fats and virtually undetectable amounts of omega-3 fatty acids. In contrast, the fat of wild animals contains over five times more polyunsaturated fat per gram and has desirable amounts of beneficial omega-3 fatty acids (approximately 4 percent).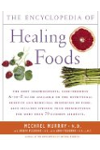 More About this Book
Encyclopedia of Healing Foods
From the bestselling authors of The Encyclopedia of Natural Medicine, the most comprehensive and practical guide available to the nutritional benefits and medicinal properties of virtually everything...
Continue Learning about Wellness