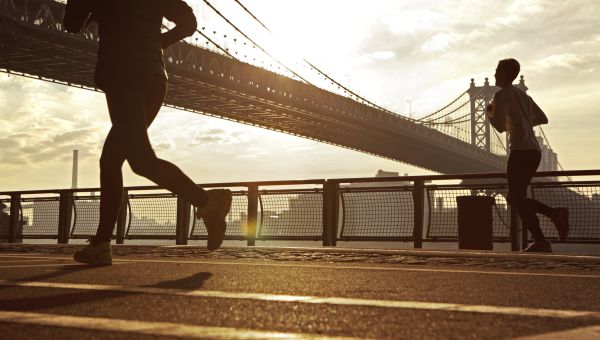 Can your community make you healthier?
Most people know the basic recipe for good health: eat well, get enough exercise and see your healthcare provider regularly. But where you live influences your health, too. Larger cities and communities encourage healthy habits and the well-being of residents, which help reduce chronic health problems like obesity and heart disease, according to the Gallup-Healthways Well-Being Index.
The study examined 48 communities throughout the United States and ranked them on four metrics: how walkable they are, how bikeable they are, availability of parks and natural spaces and the strength of their public transportation systems. The researchers averaged the scores to create an Active Living score and found fascinating results.
What they learned
The city with the highest Active Living score is the Boston, Massachusetts area, comprised of Boston, Cambridge and Newton. At the bottom: Fort Wayne, Indiana. Each of the four scores—walk score, bike score, transit score and park score—proved to be correlated to the health and well-being of community residents.
A high transit score is associated with a lower rate of depression.
Residents of communities with a high park score are associated with feelings of safety and security.
A high bike score is correlated to lower cholesterol.
Communities with high bike and park scores seem to be related to fewer feelings of apathy in residents and lower rates of smoking.
Communities with high walk, park and especially transit scores were correlated with less daily physical pain.
Reduction of chronic conditions
There are some stark differences between the communities with the five highest Active Living scores versus the five lowest scores. The differences serve to highlight how your community can affect your health. Specifically, people in communities with the highest Active Living scores reported:
Nearly 21 percent less obesity
Almost 25 percent less diabetes
20 percent less high blood pressure
8 percent less high cholesterol
29 percent less depression
Promoting a healthy lifestyle
The communities with the highest Active Living scores have almost 20 percent more people who are thriving in terms of physical well-being.
People in these communities also smoke less and eat more fresh produce than people in the lowest-scoring communities. People in communities with the highest Active Living scores even have cheerleaders—they're almost 5 percent more likely to have someone in their lives who is encouraging them to be healthy.
What you can do
Communities like Albert Lea, Minnesota and Hermosa, Manhattan and Redondo Beaches in California are actively changing their infrastructure to promote the health and wellness of their citizens. But you probably can't just pick up and move to one of the top Active Living cities—at least not on a whim. So, what can you do?
Start by petitioning for your neighborhood to become an Active Living community! Then, take your workouts outdoors. A 2011 review of studies found that compared to indoor exercise, exercising outside made people feel more revitalized, more energized and less tense, confused, angry and depressed. Even if you can't exercise outside, try to get at least 150 minutes a week of moderate exercise or 75 minutes a week of vigorous exercise, according to the Centers for Disease Control and Prevention.
Medically reviewed in February 2019.