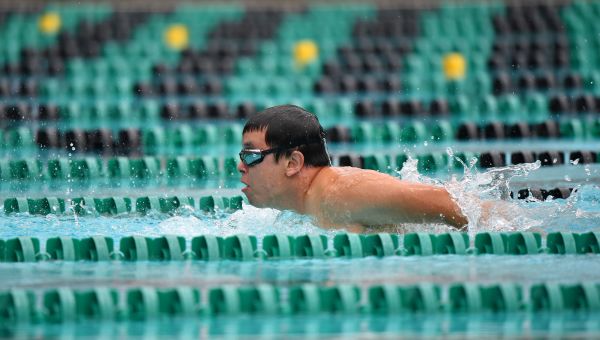 The sports training program focuses on athletes with intellectual disabilities.
Driving through Honolulu on July 20 or 21, 2018, you may have noticed something strange about Aloha Tower and the IBM Building—they were both glowing red. It wasn't a fire, but a celebration of people with intellectual disabilities. The Light Up for Inclusion campaign marked Special Olympics International's 50th anniversary by illuminating monuments around the world. It's one of the many Special Olympics initiatives that spotlights an often-underserved community.
50 years of changing lives
Founded in 1968, Special Olympics is an international sports training and competition program designed for athletes of all ages and physical abilities with an intellectual disability. In 2017, Special Olympics Hawaii served over 3,400 athletes (at no cost to them) on six islands.
Through sports, Special Olympics aims to help its athletes uncover inner strengths and empowers them to grow socially, mentally and physically. As a result, according to research done by the organization, they're 200 percent more likely to be employed than non-participating individuals with intellectual disabilities. They develop improved motor skills and physical fitness, and tend to have a more positive self-image, as well.
The organization also strives to end stigmas associated with intellectual disabilities. "Some of our athletes have had vision problems, and the assumption is that they can't catch a ball because they have a disability," says Dan Epstein, COO for Special Olympics Hawaii. "And then all of a sudden they go through an eye exam and you realize they need glasses." Through working with medical professionals and the community at large, Special Olympics aims to curtail these common misconceptions.
Let the games begin
Special Olympics Hawaii has year-round sports competitions divided into three seasons: spring, summer and fall. There are over 45 individual contests across Hawaii, including three state-wide events—Summer Games, Aukake Classic and Holiday Games.
Sports offered include:
Basketball
Bocce
Bowling
Flag football
Golf (exhibition only)
Power Lifting
Soccer
Softball
Swimming
Track and field
Any person age 8 and older with an intellectual disability can compete in Special Olympics events. For keiki aged 2 to 7, Special Olympics offers a Young Athletes Program focusing on pre-sports skills.
Athletes can also participate representing Hawaii in the Special Olympics USA Games, a national competition that welcomes thousands of athletes from all 50 states. In 2018, athletes from Oahu, Kauai, Maui and Hawaii Island competed in soccer, track and field and basketball at the Seattle USA Games. Costs for airfare, training, equipment and uniforms were covered by Special Olympics Hawaii through donations and local fundraising efforts.
"Everything we provide is free of charge to our athletes and families, and all monies raised in Hawaii stay in Hawaii," says Healthy Communities Manager Jennifer Ernst. That includes the regular costs of flying athletes from neighbor islands to Oahu for the three annual competitions.
Focusing on health
Special Olympics Hawaii is, at its core, a sports program, but like many nonprofits, its mission has grown over time. One of its current major initiatives is Healthy Athletes. Each year, athletes are provided free health screenings at the Summer Games held at the University of Hawai'i, Mānoa. In 2017, over 500 exams were performed.
Health disparities are common among individuals with intellectual disabilities. According to statistics provided by Special Olympics, they're twice as likely to die before the age of 50 than those without intellectual disabilities. Many have poor or almost no access to healthcare, putting them at increased risk for medical and dental conditions. Diagnostic overshadowing is also common, where a physician may assume that physical symptoms are caused by a disability, instead of an underlying medical condition.
"See the person, not the disability," says Ernst about diagnostic overshadowing. Through Healthy Athletes, Special Olympics Hawaii trains volunteer healthcare professionals who then go back to their practices with increased knowledge of and compassion for people with intellectual disabilities.
Next steps with Sharecare
Sharecare and HMSA are working together to donate up to $100,000 to Special Olympics Hawaii, but we need your help! For each Hawaii-based new user who creates a profile and takes the RealAge Test, Sharecare will donate $5 across five Hawaii charities, including Special Olympics. From there, log your green days. Every green day earned—up to 30 days a month—is another $1 to charity through November 2018. Help your health and Special Olympics Hawaii this fall with Sharecare and HMSA.
Medically reviewed in August 2018.