Not everyone loses weight at the same pace and in the same areas of the body. And, not every diet is a guaranteed recipe for success. For healthy, long-term weight loss, the body needs time to adjust.

A reasonable goal is to lose 10% of your body weight over six months. You might lose weight quickly at first. This may be the result of eating less, or it could be that you need to drink more fluids.

Losing one to two pounds a week, or eight to 10 pounds a month is ideal. Some patients lose more, but some lose nothing at all. If you lose 12 pounds in the first month, and another 12 pounds in month two, it is not reasonable to expect this pace to continue.
Losing weight should be a slow and steady process to help prevent complications from occurring. Maintaining the weight loss you achieve is more likely if the weight loss occurs gradually. A weight loss of 1 to 2 pounds a week or a month depends upon an individual's height and weight. Making an appointment with a healthcare provider or nutritionist when starting a weight loss program can be beneficial.
When it comes to losing weight, steady and slow is the way to go. Depending on how much you weigh now, experts recommend losing an average of 1/2 to 2 pounds a week. At the beginning of a weight-loss program, you may find that you lose weight faster. That's fine. Over time, you'll lose weight at a steady, slower pace that's healthy and sustainable.

Continue Learning about Weight Loss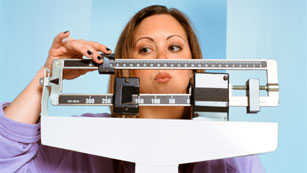 You know that to lose weight you need to burn more calories than you take in. There are only two ways to do this: reduce the number of calories you take in or increase the amount of calories you burn each day. Once you learn to do ...
this, it will be easier to maintain your weight.
More