Most contaminants have no smell, color, or taste, so you may not be able to detect a problem if you have one. Also, water can taste different from place to place. Still, your water might not be right if you notice these signs:
The water has an objectionable or unusual smell, taste, or appearance;
Your household or neighborhood has recurrent intestinal or other health problems;
Your home has old lead pipes;
You live near livestock, agricultural crops, or toxic dumps;
Your sinks, tubs, and laundry are stained;
Your home has indoor radon gas;
Your soaps, shampoos, and detergents lather poorly;
Your water-treatment supplies corrode rapidly.
This content originally appeared on
doctoroz.com
.
You can easily measure contaminants in your tap water with simple kits available from hardware stores. And every water company has to post its most recent test results on its Web site and send them to each home once a year (look for them in June - July). If the levels are greater in any sample for any contaminant, or if your water isn't crystal clear, install a tap water filter and then test your water again. I prefer a charcoal filter, but remember you need some of the trace minerals that come from tap water. Once you stop buying bottled water, you'll save enough money to purchase organic food at the expensive places (and at inexpensive outlets like Wal-Mart, Costco, and Trader Joes, organic food can cost no more than non-organic). While you're at it, get rid of the paper cups and plates. Switch to the ol' china and glasses. You'll save landfills from filling with mountains of plastic.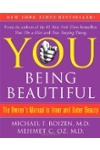 Continue Learning about Water
Plenty of water in your diet helps digestion, skin, and muscle tone. It can help prevent cramping during exercise and even relive stress. Many times we are low on water - dehydrated, and don't realize it. Being dehydrated can mani...
fest with symptoms like fatigue and depression. In fact, by the time we are feeling thirsty, we're already slightly dehydrated. That's one reason that we hear the recommendation to drink eight standard glasses of water daily. Adequate water helps you digest food an helps your body get rid of wastes. Your kidneys need to process water for you to eliminate waste by urination, and getting enough water ensures that these wastes are diluted. Not getting enough water can encourage the formation of painful kidney stones.
More