Studies have shown that people with dogs tend to be more likely to exercise, probably because it gives them a compelling reason to get out of the house for those 150 minutes of recommended physical activity per week.
That said, one study showed that many people didn't know how much exercise their pets needed; another study showed that an incredible 40% of dog owners reported never walking their dog. While it varies from breed to breed, most dogs need as much exercise as you do: 30-60 minutes a day. Researchers also found that having access to a good place to walk your dog was critical in motivating owners to get outside.
Talk to friends and fellow dog owners about good places near you to go walking. When you find a good route, make it part of your daily habit. A 30-minute walk every day will hit a weekly quota for both of you.
This content originally appeared on doctoroz.com.
Dogs like all animals need to be exercised regularly to ensure their health like all animals including humans. Walking a dog and interacting and playing with it on a regular basis will provide exercise and health benefits for both and your best friend. Experts recommend that people engage in 60 minutes of moderate activity exercise most days of the week. If you take your dog for a walk each day and interact with it daily this will increase your fitness level and improve your and your best friends' health.
I thought owning my West Highland Terrier would help me exercise regularly. She gets the exercise, I get to watch her sniff the ground, the fire hydrant, the curb. I am not sure if I didn't train her to walk with me or if she just is not interested. Before you choose to have a dog, speak to trainers to be sure the choice of dog will want/choose to walk with you. McKenzie, with her little legs, has a burst or two but it is to get to something she wants to investigate. Good Luck.
Most of us have started many exercise programs - aerobics classes, Tae Bo, running programs - only to find we couldn't fit the programs into our routines. Many people believe that you'll only benefit from exercise and get your weight down if you exercise vigorously for at least 20 to 30 minutes. The good news is that we have a better chance of sticking with our exercise and losing weight by going for a couple short dog walks a day than from a once daily exercise program.

Researchers at the University of Pittsburgh randomly assigned overweight adults to one of two exercise programs. People in both programs were asked to exercise about 20 to 40 minutes a day on five days each week. One group was told they should break up their exercise minutes into several short exercise periods of about 10 minutes each. The other group was told to do one long fitness session each time they exercised. At the end of five months, the people using several short exercise periods to get in their daily work-out were exercising about 25 percent more days and for almost 20 percent longer in total duration compared with those needing to get their exercise done in a single, long session. People using the short exercise sessions also lost about 40 percent more weight!

So you can probably get better exercise and weight loss by walking your dog for 10 minutes each walk two to four times a day than you will get from trying to stick to an exercise video.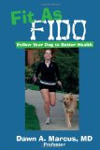 More About this Book
Fit As Fido: Follow Your Dog to Better Health
Let your dog teach you to live a happier, healthier, and more fulfilling life! Companionship with your pet can be used as a means and a motivator to increase your own physical and mental fitness....
Continue Learning about Walking

Walking provides many health benefits. It can help you lose weight, get fit, boost mood and more. Learn tips from Sharecare experts on how to safely incorporate walking into your daily routine.