Moderate-intensity walking certainly counts as exercise. In fact, it's a great physical activity option for many people for a number of reasons:
It is well tolerated by people across a range of fitness levels, ages, and medical histories.
Walking doesn't have to cost you anything. You can walk for free in your neighborhood or in a mall.
It helps reduce stress and can be done for "alone time" or with others to connect with friends, family, or a family dog.
A typical goal, based on Centers for Disease Control and Prevention (CDC) guidelines, would be to get 2 hours and 30 minutes of moderate-intensity exercise a week (30 minutes a day, 5 days a week). Brisk walking is classified as a moderate-intensity exercise.
Before beginning a walking program, discuss safety and goals with your doctor. Especially if you have a history of heart disease, your doctor may want you to have a stress test prior to starting physical activity. A stress test monitors and records your heart's electrical activity during exercise to determine the effects of exercise on the rate and rhythm of your heart. Your doctor can also help you decide which exercises are safe and may refer you to other qualified health professionals (for example, a physical therapist or an exercise physiologist) for guidance.
Any form of movement is exercise. Walking falls into that category and will surely be considered to be exercise.
Walking is the BEST exercise. Just like anything else walking also comes in various forms. There is leisurely walking like what you would do through a mall. There is power walking like what you would do on a park trail. Then there is race walking like what you would do on a track or in a competition.
Walking can go from very basic to very advanced.
The definition of exercise is any physical activity that is planned, structured, and repetitive for the purpose of conditioning any part of the body. Exercise is used to improve health, maintain fitness and is important as a means of physical rehabilitation.
Walking clearly fits into the above definition. Walking can have many benefits on one's health & fitness. Walking can improve aerobic capacity, improve digestive system, mobilize joints/muscles, and depending on the environment improve social connections.
How an individual engages in a walking program is based on their individual ability and their goals. It is recommended if walking is your only form of exercise to participate 5-6 days a week for 30-60 minutes.
Yes, walking does definitely counts as exercise. To make walking a quality form of cardiovascular exercise, you need to increase your heart rate. A good way to monitor this is through a technique that is easy for everyone to use. It's called Conversational Pace.
During exercise:
If you are able to sing along to your music, you are not working hard enough.
If you can talk comfortably, you are not working too hard.
If you struggle to breathe and need to stop to catch your breath, you are working way too hard.
Try to find a happy medium between talking comfortably and struggling to breathe.
Walking is a great form of exercise and can be used throughout the day. It is easier on your body than running and can be a great social activity, too.
You can get good health benefits from a brisk walk - you don't need to be doing a sweat-pouring workout in the gym. Medical research shows that consistent walking is better for your health than infrequent strenuous exercise - so grab your sneakers, leash, and dog and get started on the road to better health.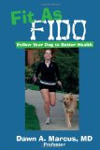 More About this Book
Fit As Fido: Follow Your Dog to Better Health
Let your dog teach you to live a happier, healthier, and more fulfilling life! Companionship with your pet can be used as a means and a motivator to increase your own physical and mental fitness....
Continue Learning about Walking

Walking provides many health benefits. It can help you lose weight, get fit, boost mood and more. Learn tips from Sharecare experts on how to safely incorporate walking into your daily routine.