Everyone needs thiamin, vitamin B1. Luckily it is abundant in our food supply, so it is rare that one needs to take it in supplement form. Food sources include enriched white bread, whole grains, hot dogs, luncheon meat, cold cereal and legumes. Three-fourths cup of Total cereal provides more than enough needed for one day! In America, those most at risk for deficiency are alcoholics because they have diminished thiamin absorption and increased excretion. However, it is still recommended to consume food sources (better absorption) than supplements.
Everyone needs enough thiamine in order to have healthy cells, normal growth and proper nerve and muscle function. Most people get enough thiamine through food sources. However, people with thiamine deficiencies, which may be caused by a number of things, should take thiamine. Thiamine deficiency is most common in alcoholics or people who abuse alcohol. People with Korsakoff syndrome or Wernicke's disease may also take thiamine. Thiamine may also be helpful in preventing cataracts. Women who are pregnant or lactating may require more thiamine than normal, so supplements may be helpful.


Continue Learning about Vitamins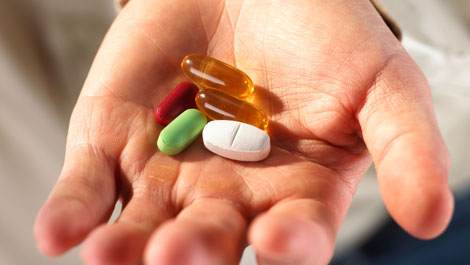 In the United States, the Food and Drug Administration (FDA) regulates vitamin supplements and provides recommended daily amount information. The FDA says that we should pay attention when considering vitamin supplements, because ...
frequently many different vitamins and minerals are combined into one product.
More