Starting in the mid-1980s, numerous studies noted a link between high blood levels of homocysteine (an amino acid found in everyone's blood) and an increased risk of cardiovascular disease. Research also reveals that many people with high homocysteine levels are deficient in certain B vitamins: folic acid, B6, and B12. Supplements of these vitamins can reduce homocysteine levels within weeks.

But here's the rub: lowering homocysteine levels does not appear to benefit people with normal homocysteine levels who already have heart disease. Two large studies found that B vitamin treatment in heart disease patients did not reduce the risk of heart attacks or other forms of cardiovascular disease, even though homocysteine levels in patients taking B vitamins dropped by 27%. The bottom line: while it's still a good idea to get plenty of B vitamins in your diet (fruits and vegetables -- especially dark leafy greens -- are good sources) for overall health, there's no reason to take B vitamin supplements to stave off heart disease.
Continue Learning about Vitamins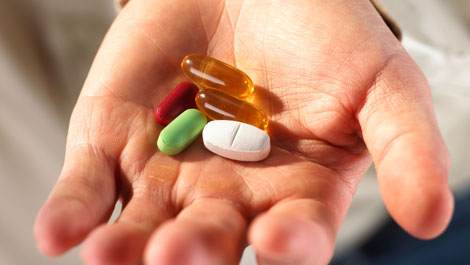 In the United States, the Food and Drug Administration (FDA) regulates vitamin supplements and provides recommended daily amount information. The FDA says that we should pay attention when considering vitamin supplements, because ...
frequently many different vitamins and minerals are combined into one product.
More